Radegast Brewery Brewing House Will Be Named After a Famous Brewmaster
30.1.2014
Radegast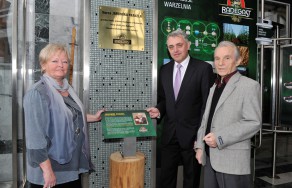 Jaromír Franzl Brewing House; that is the name of Radegast Brewery Nošovice's brewing house. The brewery thus pays homage to the respected beer brewing expert who died on September 30, 2013; he was 94 years old. Jaromír Franzl is in the Czech Beer Brewing and Malt Production Hall of Fame, and was the first brew master of the Radegast brewery. He was the one who gave Radegast beer its characteristic bitterness that was very unusual at the time.
"Mr. Franzl showed great courage, which came from his life and professional experience. In 1970, in the newest and biggest brewery in Moravia, he did not hesitate to brew beer which had an absolutely unusual taste due to its strong bitterness. He resisted the pressure from critics and stood his ground. In the end, people admitted he was right and that still stands today. We've brewed beer according to his heritage to this day," said manager of Radegast brewery Ivo Kaňák. Along with Jaromír Franzl's daughther Lygia Kuběnova and Nošovice Mayor Miroslav Kačmarčík, he uncovered the plaque that will remind visitors of the famous brew master.
The reason behind naming the brewing house after the first brew master is explained by Ivo Kaňák: "The brewing house is the heart of the brewery. We thought that naming the house after Mr. Franzl would best express our respect and thankfulness for all he did for the Radegast beer."
Jaromír Franzl'a heritage might be appreciated by the town of Nošovice as well."I will propose to the council to award honourary citizenship in memoriam to Jaromír Franz as to the first citizen of Nošovice," said Nošovice Mayor Miroslav Kačmarčík.
Jaromír Franzl came from a family with a strong beer brewing tradition. He was the family's sixth consecutive brew master. He studied beer making and worked in many famous Czech and Moravian breweries. He was chosen as a brew master for the newly built brewery in Nošovice as one of the best beer experts in the country. He worked there as brew master and director until his retirement in 1981. After that, he stayed in Nošovice and lived nearby. He was a tutor and advisor to his younger colleagues until his death.
Notes for editors:
Radegast beer brewery, one of the most modern beer breweries in Czech Republic, has produced beer since 1970.
With its total sale of nearly 9.9 million hectolitres during the calendar year of 2012 (including licenced productions abroad) and with its export to more than 50 countries worldwide, Plzeňský Prazdroj Inc. is the preeminent beer producer in the region and the biggest exporter of the Czech beer.
Plzeňský Prazdroj Inc. is a member of SABMiller plc. group. Pilsner Urquell is the international flagship brand of the SABMiller brand portfolio.
SABMiller plc is one of the most significant world beer companies with 70 thousand employees in 75 countries around the world. It offers more than 200 beer brands including the world renowned brand such as Pilsner Urquell, Peroni Nastro Azzurro, Miller Genuine Draft a Grolsch, as well as important local brands such as Aguila (Columbia), Castle (South Africa), Miller Lite (USA), Snow (China), Victoria Bitter (Australia), and Tyskie (Poland).

Contact:
Kateřina Krásová
Plzeňský Prazdroj
+420 724 617 219

Plzeňský Prazdroj in social media:
Twitter https://twitter.com/Prazdroj1
LinkedIN https://www.linkedin.com/company/plzensky-prazdroj
Youtube http://www.youtube.com/user/PlzenskyPrazdroj1
Nošovice