Plzeňský Prazdroj Exports the Most Beer in Its History
31.1.2014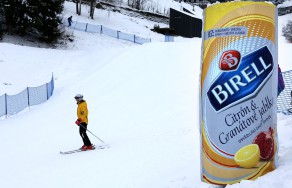 Plzeňský Prazdroj proves once again that Czech beer is in higher and higher demand abroad. Last year, the foremost exporter of domestic beer reached its historic export record with 1.114 million hl of beer. That is a 5 percent annual increase. On the domestic market, premium brands, especially Pilsner Urquell, did very well. Thanks to the continuing trend of healthy living, there was an increased interest in the non-alcoholic beer Birell, and the novelty Kingswood Cider found its place in the beer selection as well.
Traditionally, Pilsner Urquell brand does great with exports. In 2013 it scored big with a 4 percent annual increase. It strengthened its position especially in Asia, Great Britain, Italy, Finland, Belarus, Bulgaria, Monte Negro and Slovakia. Velkopopovický Kozel does well abroad as well. It sells in 30 countries and it marked an annual increase of 6 percent.
"The last year's results of our beer export activities were very pleasing to us, especially because it was the biggest exporting year in our history. We are very proud that our brands are proving themselves on markets with tough competition and are able to build their ever increasing fan bases thanks to a typical high quality taste," said Paolo Lanzarotti, general manager and chairman of the board of Plzeňský Prazdroj.
Plzeňský Prazdroj scored on the domestic market too, despite cold spring months and devastating floods that hit the Czech Republic last June and negatively influenced overall beer consumption. The last months of the year marked an increased interest, and December 2013 was entered into the history of Plzeňský Prazdroj with record sales of Pilsner Urquell. Together with its licensed productions, Plzeňský Prazdroj sold nearly 9.7 million hl of beer. Regardless of an overall decrease on the beer market, Prazdroj managed to fortify sales of its premium brands by 1 percent.
Last, the interest in the non-alcoholic beer Birell increased as well. The original as well as fruit- flavoured varieties did well. Annually, the non-alcoholic Birell has marked an increase and it now holds a 5 percent share in Plzeňský Prazdroj production.
"The popularity of our non-alcoholic beer Birell and its fruit- flavoured varieties speaks volumes about the change in lifestyle of Czech consumers.  Today, they focus on active pastimes where non-alcoholic beer is their first choice thanks to its refreshing properties and pure, natural content. Consumers drink non-alcoholic beer more and more often even with their everyday lunches. It does not influence their following business and work activities such as driving. We asses that the non-alcoholic beer market will double during the next 10 years," explained Paolo Lanzarotti.
Plzeňský Prazdroj succeeded not only in traditional beer categories. Thanks to its novelty Kingswood Cider, introduced on tap last year, they were able to establish a completely new category that was, until then, not very known in the Czech beer market. During the summer months alone, Kingswood Cider touched many consumers who gave it preference over other beverages thanks to its sweeter apple taste. The company introduced the Kingswood Hot Cider variety to the market right before Christmas.

Plzeňský Prazdroj press contact Kateřina Krásová is available to media at:
Mobile: +420 724 617 219
Email: 

Notes for editors:
With its total sale of nearly 9.7 million of hectoliters during the calendar year of 2013 (including licensed productions abroad) and with its export to more than 50 countries worldwide, Plzeňský Prazdroj Inc. is the preeminent beer producer in the region and the biggest exporter of the Czech beer.
Plzeňský Prazdroj Inc. is the member of SABMiller plc. group. Pilsner Urquell is the international flagship brand of the SABMiller brand portfolio.
SABMiller plc is one of the most significant world beer companies with 70 thousand employees in 75 countries around the world. It offers more than 200 beer brands including the world renowned brand such as Pilsner Urquell, Peroni Nastro Azzurro, Miller Genuine Draft  a Grolsch, as well as important local brands such as Aguila (Columbia), Castle (South Africa), Miller Lite (USA), Snow (China), Victoria Bitter (Australia), and Tyskie (Poland).

Contact:
Kateřina Krásová
Plzeňský Prazdroj
+420 724 617 219
Plzeň