Pilsner Urquell Will Reward Successful Olympic Athletes with Free Beer for a Year
10.2.2014
Pilsner Urquell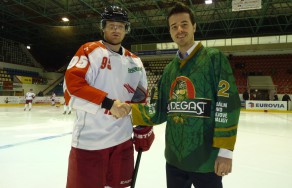 Soukup and Sáblíková have their rewards secured. Who will join them?
Successful Olympic athletes from Sochi will bring home with them not only fame and precious metals but also liquid gold. As a general partner of the Czech Olympic Team, Pilsner Urquell will give free beer for a year to all Czech sportsmen who win any kind of medal in any of the WOG disciplines. Pilsner Urquell has actively supported Czech Olympic athletes for 12 years now, and this pre-Olympic motivation is becoming a tradition.
"It is hard to guess how many of our 88 Olympic participants in Sochi will place among the three best and will take home with them free beer for a year, but we brewed more than enough beer.  You can cheer for all of them so we have the highest possible number. I believe that the athletes will appreciate this motivation and that they will find the beer useful during celebrations with their friends and fans," said brand manager of Pilsner Urquell Lukáš Novotný.
After two days, Czech athletes Jaroslav Soukal and Martina Sáblíková have two medals, however, Czechs have more hot medal candidates for the Olympics in Sochi. Fans traditionally believe in their hockey team led by coach Lukáš Bauerov. But biathlonist Soukalova and snowboard racers Eva Samkova and Gabriela Pančochova also show great promise. To them and to all other sportsmen, proud sponsor Pilsner Urquell expresses its full support and wishes them the best from.
Pilsner Urquell is also awarding beer retroactively with no expiration date. Olympic athlete Věra Cechlová, who was correctively awarded the bronze medal from the Summer Olympic Games in Athens in 2004, has won free beer for a year. After 8 long years, the standing doping medal holder of the bronze medal was finally disqualified and Věra got her medal and her beer reward.

Plzeňský Prazdroj press contact Kateřina Krásová is available to media at:
Mobile: +420 724 617 219
Email: 
Notes for editors:
With total sales of nearly 9.7 million hectolitres during the calendar year of 2013 (including licensed production abroad) and with exports to more than 50 countries worldwide, Plzeňský Prazdroj Inc. is the preeminent beer producer in the region and the biggest exporter of Czech beer.
Plzeňský Prazdroj Inc. is a member of SABMiller plc. group. Pilsner Urquell is the international flagship brand of the SABMiller brand portfolio.
SABMiller plc is one of the most significant beer companies in the world, with 70 thousand employees in 75 countries around the world. It offers more than 200 beer brands, including world renowned brands like Pilsner Urquell, Peroni Nastro Azzurro, Miller Genuine Draft and Grolsch, as well as important local brands such as Aguila (Columbia), Castle (South Africa), Miller Lite (USA), Snow (China), Victoria Bitter (Australia), and Tyskie (Poland).

Contact:
Kateřina Krásová
Plzeňský Prazdroj
+420 724 617 219
Plzeň