Exhibition of Three Generations of Photographs in Beer Brewing Museum
26.3.2014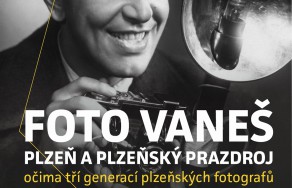 To commemorate 55 years since its opening, the Beer Brewing Museum in Pilsen prepared a series of interesting exhibitions. One of them is a display of 100-year-old photographs from Foto Vaneš studio that will be open to the public from March 27 to May 23, 2014.
"For three generations, the Vaneš family has taken many types of photographs for Pilsen citizens as well as for many companies. Plzeňský Prazdroj has also cooperated with the family firm for nearly 100 years and that is the reason the exhibition is called "Foto Vaneš – Plzeň and Plzeňský Prazdroj through the Eyes of Three Generations of Pilsen Photographers." The family's tradition and history started 100 year ago with Alois Vaneš, who was followed by his son Sláva. Today, the newest chapters are written by his grandson Marek. Thanks to their pictures, our visitors will witness time not only in Pilsen but in our brewery," said Vendula Hnojská from the Beer Brewing Museum in Pilsen.
Many photographs in many styles were created in the Foto Vaneš Studio during its long existence, from coloured portrait photographs of celebrities to landscapes, industrial images, and documentary photography. Visitors of the exhibition will witness the past, via period photos, along with some not very well-known pictures of the Pilsen Brewery that include documentation of employees and their horses dressed up for a circus in the vicinity of the Plzeňský Prazdroj Brewery.
The Beer Brewing Museum in Pilsen, which is located in the authentic house "with the rights to brew beer" is celebrating its 55th anniversary this year. It has been owned by many  during the first half of the 20th century, and as a museum it has been open with only a few interruptions since May 8, 1959. To commemorate the 100th anniversary of the trademark "Pilsen Beer," thousands of visitors will come to visit this unique European museum. They can admire the unusual beer brewing presentations containing hundreds of artefacts, as well as the depository of the museum, which holds an additional 70,000 artefacts related to beer brewing.
The Beer Brewing Museum is open from 10:00 a.m. to 5:00 p.m. in March and until 6:00 p.m. in April. For more information visit http://www.prazdrojvisit.cz/cz/pivovarske-muzeum/.

Plzeňský Prazdroj press contact Kateřina Krásová is available to media at:
Mobile: +420 724 617 219
Email: 

Notes for editors:
With its total sale of nearly 9.7 million of hectoliters during the calendar year of 2013 (including licensed productions abroad) and with its export to more than 50 countries worldwide, Plzeňský Prazdroj Inc. is the preeminent beer producer in the region and the biggest exporter of the Czech beer.
Plzeňský Prazdroj Inc. is the member of SABMiller plc. group. Pilsner Urquell is the international flagship brand of the SABMiller brand portfolio.
SABMiller plc is one of the most significant world beer companies with 70 thousand employees in 75 countries around the world. It offers more than 200 beer brands including the world renowned brand such as Pilsner Urquell, Peroni Nastro Azzurro, Miller Genuine Draft (draught) a Grolsch, as well as important local brands such as Aguila (Columbia), Castle (South Africa), Miller Lite (USA), Snow (China), Victoria Bitter (Australia), and Tyskie (Poland).
Contact:
Kateřina Krásová
Plzeňský Prazdroj
+420 724 617 219
Plzeň