The Radegast Fajront to Be Brewed in Nošovice
27.3.2014
Radegast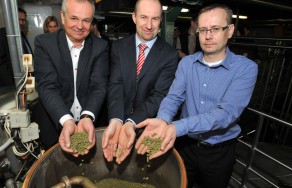 Those living in the Třinec region may look forward to perfectly bitter 15-degree beer. Radegast Brewery will brew special beer to celebrate 175 years of Třinec Steel Mills. People will have a chance to try it during Steelers Day on May 3 and in Třinec pubs. Třinec region citizens themselves, in public voting, picked the name of the beer. Jan Czudek, general director of Třinec Steel Mills, Petr Kwaczek, master brewer of the Radegast brewery, and Jan Peterek, a Třinec hockey legend, founded the batch of the Radegast Fajront beer in Nošovice today.
"Radegast is known for its distinguished bitterness. That is very strong in Fajront thanks to a higher quantity of the highest quality hops, Žatec semi-early red. The bitterness is pleasant thanks to the rich malt taste. I am convinced that Třinec steel mill workers will enjoy this bitterest of Czech beers," said Radegast brewery malt master Petr Kwaczek describing the taste of the beer.
General Manager of the Třinec Steel Mills Jan Czudek came to Nošovice to found the batch of Radegast Fajront by distributing hops and then he signed the brewing certificate. "I am glad that we came to an agreement with the brewery and that our people will have special beer especially made for them for the celebrations. I can't wait to enjoy it during the Steelers day," said Jan Czudek.
The name Radegast Fajront was chosen for the new beer by citizens of the Třinec region themselves. 3,000 votes came during the voting. The Fajront victory was absolute. The special beer will be on taps during Steelers Day on Saturday, May 3, and then in many pubs around the Třinec region for the next few weeks. The list of the pubs will be available online at www.radegast.cz.

Notes for editors:
With its total sale of nearly 9.7 million of hectoliters during the calendar year of 2013 (including licensed productions abroad) and with its export to more than 50 countries worldwide, Plzeňský Prazdroj Inc. is the preeminent beer producer in the region and the biggest exporter of the Czech beer.
Plzeňský Prazdroj Inc. is the member of SABMiller plc. group. Pilsner Urquell is the international flagship brand of the SABMiller brand portfolio.
SABMiller plc is one of the most significant world beer companies with 70 thousand employees in 75 countries around the world. It offers more than 200 beer brands including the world renowned brand such as Pilsner Urquell, Peroni Nastro Azzurro, Miller Genuine Draft a Grolsch, as well as important local brands such as Aguila (Columbia), Castle (South Africa), Miller Lite (USA), Snow (China), Victoria Bitter (Australia), and Tyskie (Poland).
Contact:
Kateřina Krásová
Plzeňský Prazdroj
724 617 219

Plzeňský Prazdroj in social media:
Twitter https://twitter.com/Prazdroj1
LinkedIN https://www.linkedin.com/company/plzensky-prazdroj
Youtube http://www.youtube.com/user/PlzenskyPrazdroj1
Nošovice