Mother's Day is coming, and just a month later, fathers will be celebrating! However, behind every Father's Day is a woman
7.5.2014
Pilsner Urquell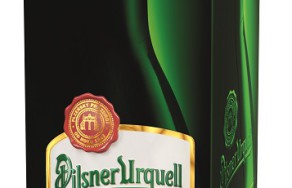 Every year, the second Sunday of May belongs to the celebration of Mother's Day. There are many appropriate presents for women, but a much harder task is coming up with a gift only one month later when our fathers take centre stage. Unlike Father's Day, Mother's Day has a long and firm tradition, and according to a survey* taken last year, more than two thirds of respondents agree that Father's Day should not be ignored. Plzeňský Prazdroj prepared a special 1l gift bottle for all those who want to thank their fathers. Additionally, men who will become fathers on June 15, 2014 may get a 50l barrel of Pilsner Urquell beer!
On Mother's day, cafés and restaurants are filled with celebrated mothers, flower shops are busier than ever, and chocolate sales are through the roof. Coming up with a present for moms, however, is not as complicated as finding one for dads. Although Father's Day is not a state-recognized holiday in the Czech Republic, it has been celebrated on the third Sunday of June for more than 100 years around the globe. What that fact in mind, do not forget to mark your calendars on both May 11 and June 15.
In the USA, Mother's Day has been celebrated since 1907 after Ann Reeves Jarvis took it upon herself to campaign to make it an official holiday. Five years later, after President Woodrow Wilson officially recognized the celebration, Mother's Day now falls regularly on the second Sunday of May. Alice Masaryková was the Czechoslovakian counterpart who advocated for the celebration of all mothers, with the celebration remaining on the second Sunday of May in our country.
Behind every Father's Day is a woman! The first mention of a "father's day" came, once again, from the USA when, in 1910, Sonora Smart Dodd decided to celebrate her widowed father who took over the upbringing and education of his six children. This spontaneous celebration, taking place in Spokane, Washington on the West Coast of the United States, quickly became a phenomenon. Father's Day was officially recognized in 1966, and is also celebrated in Europe, with countries such as Germany and Poland taking part.
According to a survey* conducted by Plzeňský Prazdroj last year, nearly 70% of respondents agree that Father's Day should be recognized and celebrated. "The third Sunday of June belongs to fathers, and Pilsner Urquell has supported the idea of a Father's Day celebration in the Czech Republic for several years now,"said Lukáš Novotný, brand manager of Pilsner Urquell. "We would like to make life easier for all those who want to buy the perfect gift, and therefore, we have prepared a 1l bottle designed especially for Father's Day. We will also add a special beer gift to all men set to become fathers on June 15," he adds. Plzeňský Prazdroj will deliver a free 50l barrel of Pilsner Urquell for free to pubs that have PU on tap so they can celebrate with their friends.
More information at www.pilsner-urquell.cz
*Survey conducted by IPSOS survey agency in May 2013 using the population sample of 1018 respondents with answers "yes" and "probably yes."
Plzeňský Prazdroj press contact Kateřina Krásová is available to media at:
Mobile: +420 724 617 219
Email:
Notes for editors:
With its total sale of nearly 9.7 million of hectoliters during the calendar year of 2013 (including licensed productions abroad) and with its export to more than 50 countries worldwide, Plzeňský Prazdroj Inc. is the preeminent beer producer in the region and the biggest exporter of the Czech beer.
Plzeňský Prazdroj Inc. is the member of SABMiller plc. group. Pilsner Urquell is the international flagship brand of the SABMiller brand portfolio.
SABMiller plc is one of the most significant world beer companies with 70 thousand employees in 75 countries around the world. It offers more than 200 beer brands including world-renowned brands such as Pilsner Urquell, Peroni Nastro Azzurro, Miller Genuine Draft and Grolsch, as well as important local brands such as Aguila (Columbia), Castle (South Africa), Miller Lite (USA), Snow (China), Victoria Bitter (Australia), and Tyskie (Poland).
Plzeň