Two thirds of people want to celebrate Father's Day. Pilsner Urquell will bring original presents to all fathers
29.5.2014
Pilsner Urquell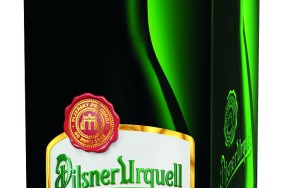 Many countries around world celebrate Father's Day on the third Sunday of June. This year, the day falls on June 15, 2014, and we Czechs will celebrate it as well. According to a survey, 59 percent of Czechs agree with the opinion that Father's Day should be celebrated. Respondents mentioned a thank you note, a gift, or an invitation to a beer as the most appropriate form of appreciation. Therefore, Pilsner Urquell prepared a unique gift and interesting events for all who wish to surprise their fathers. Make your dad happy on June 15.
Unlike Mother's Day and Kids' day, Father's Day is not an officially recognised celebration in Czech Republic. It has been celebrated all around the world for more than 100 years every third Sunday of June. Behind the celebration is Sonora Smart Dodd, who in 1910 organised a celebration to thank her widowed father for the upbringing of six children. Out of this spontaneous celebration in Spokane, on the West coast of the USA, rose the phenomenon, and in 1966 the USA officially recognised Father's Day.
According to a survey of the TNS Asia agency conducted for the Pilsner Urquell brand, 59 percent of respondents agree with the celebration of Father's Day.In the survey, 17.5 percent of people answered that they do celebrate the day. It is an ever growing trend since two years ago, only 8 percent of respondents answered positively to the question.
"More than 48 percent of people who celebrate Father's Day pliably thank their fathers. The other 40 percent surprise them with a gift, and nearly 38 percent invite them out for a beer," said Lukáš Novotný, senior brand manager of Pilsner Urquell. "More and more people want to invite their dads for a beer every year, and fewer and fewer children just plainly thank their dads," he added.
Pilsner Urquell has supported the celebrations of Father's Day for several years now. Even this year, they prepared special offers. Selected stores will offer 1l bottles of the limited edition brew, and on the Father's Day, thematic events will take place. Those men who will become fathers on June 15, 2014, and who register at www.den-otcu.cz, will receive free Pilsner Urquell lager to celebrate the coming of their child.
More information about Father's Day and planned events visit:  www.den-otcu.cz.
*The survey was conducted by TNS Aisa agency between April 28 and May 18usign the sample of 360 respondents. Some questions contained multiple-choice answers.

Plzeňský Prazdroj press contact Kateřina Krásová is available to media at:
Mobile: +420 724 617 219
Email: 

Notes for editors:
With its total sale of nearly 9.7 million of hectoliters during the calendar year of 2013 (including licensed productions abroad) and with its export to more than 50 countries worldwide, Plzeňský Prazdroj Inc. is the preeminent beer producer in the region and the biggest exporter of the Czech beer.
Plzeňský Prazdroj Inc. is the member of SABMiller plc. group. Pilsner Urquell is the international flagship brand of the SABMiller brand portfolio.
SABMiller plc is one of the most significant world beer companies with 70 thousand employees in 75 countries around the world. It offers more than 200 beer brands including the world renowned brand such as Pilsner Urquell, Peroni Nastro Azzurro, Miller Genuine Draft (draught) a Grolsch, as well as important local brands such as Aguila (Columbia), Castle (South Africa), Miller Lite (USA), Snow (China), Victoria Bitter (Australia), and Tyskie (Poland).
Plzeň