Billy Goat the Joiner
2.5.2007
Velkopopovický kozel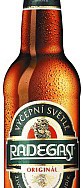 A new TV commercial promoting the brand Velkopopovicky Kozel was introduced yesterday. The message of the new footage is to express appreciation for a well-done job and the idea that in return one deserves a reward in the form of extraordinary beer produced in Velke Popovice. The new TV campaign named "Joiner" further develops this concept.
With the arrival of a new summer season, it was necessary to attract consumers with a new campaign. The new commercial replaces the previous "Pork Butcher" one, which was first broadcast in August 2006. The previous commericals have set a high standard and have become popular with the audiences. For example, the "Pork Butcher" TV spot was very well perceived mainly because of its small town setting, which emanates a peaceful atmosphere, and the attractive connection between the beer brewed in Velke Popovice and the culture of backyard barbecues. Further, the image of computer animated Billy Goat is perceived as the guarantee of the origin and high quality of our beer.
The new commercial is set in a magnificent cabinet-making workshop and a lovely country pub, which both induce the atmosphere of a small town. As the consumption of beer is mostly connected with the summer season, the entire spot is packed with images of green and sunshine. The Joiner commercial was made by the Ogilvy&Mather agency, the production part handled by the Filmservis company. Just like previously, Jiri Hanych, one of the best directors specializing in TV commercials, was at the helm of this project. Behind the camera were the excellent Tomáš Sysel and Martin Sec.
I do believe that you will enjoy this new commercial.
Martin Kudela
Brand Manager of Velkopopovicky Kozel
Velke Popovice