Pilsen City and the brewery are closer to each other
17.7.2007
Company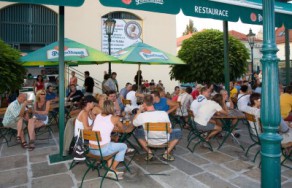 Close co-operation between Plzensky Prazdroj and City of Pilsen confirmed by signing of the Declaration
Representatives of Plzensky Prazdroj and City of Pilsen have agreed on support of the city's development and its promotion world-wide under the slogan Pilsen – World Capital of Beer. Plzensky Prazdroj's Managing Director, Mike Short and City of Pilsen Lord Mayor, Pavel Rodl have signed today the Declaration on Mutual Co-operation.
The document and its supplements cover such areas as tourism development and promotion, major cultural and social events' organising, information exchange regarding the topics of mutual concern, environmental issues as well as co-operation in cases of emergency. Special working committees are created to facilitate the co-operation within outlined areas.
The recent example of the co-operation between the city and the brewery was opening and support of an open-air photo exhibition in Pilsen, focused on sustainable development issues.
"Our historical brewery in Pilsen has become one of the most important symbols for the city and the whole region. The brewery belongs to the most attractive tourist destinations in the Czech Republic and itself represents a living cultural and social centre within the city of Pilsen. Therefore we naturally share common aspirations, interests and needs of Pilsen inhabitants and visitors", says Mike Short, Plzensky Prazdroj Managing Director. "We believe that by common efforts we will manage to create and support the image of Pilsen as a true world beer capital."
Pilsen Lord Mayor, Pavel Rodl says: "Plzensky Prazdroj belongs to the most important companies the city co-operates with. As of today this co-operation has got the solid basis of the long-term declaration focused on tourism and mutual support of major events. I believe we will be able to achieve all proposed activities so that both parties are satisfied. I also believe Pilsen inhabitants as well as visitors will benefit the most from this co-operation".
List of some common projects outlined in the Declaration's Supplement:
Common strategies and plans for tourism development
Co-operation on presentation materials: both Plzensky Prazdroj and the city will promote each other's activities within own presentation materials
Common media events and presentations for Czech and foreign journalists and tourism professionals
Common participation on tourism exhibition and fairs in the Czech Republic and abroad
Preparation works on possible interconnection between Brewing Museum tours and Pilsen ancient underground
Co-ordinated actions in terms of development of brownfield areas of the brewery and its surroundings
Development of the Recreational Area in Strunc Gardens (park over the river)
Plzensky Prazdroj's presence on major city events and vice versa
City of Pilsen to use the brewery premises for major events, e.g. Liberation Festival in May
Possibillity for major city events' festive opening and closing ceremonies to be held at the brewery or museum premises
Connection between Plzensky Prazdroj and the city's web sites
Pilsner Fest official opening by representatives of Plzensky Prazdroj and the city
Common activities aimed at historical parts – symbols of Pilsen brewery – to be declared as protected monuments
Co-ordination in the area of road and railway projects, which could affect both brewery and the city
Co-operation in the area of transportation and logistics infrastructure including crossroads and pedestrian crossings around the brewery
Common EU legislation monitoring aimed at information sharing as well as at new financial sources identification for mutual projects.
Contact:
Alexej Bechtin
Spokeman of Plzensky Prazdroj
724 617 219
x x x
Plzensky Prazdroj, a. s., is a member of the global group SABMiller plc, one of the world's largest brewers with brewing interests or distribution agreements in over 60 countries across six continents. Pilsner Urquell is the international flagship of the portfolio of SABMiller brands.
Pilsen