Plzensky Prazdroj announces financial results for the fiscal year
16.5.2008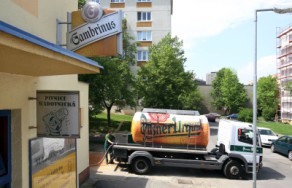 Plzensky Prazdroj announces its financial results for the year ended 31 March 2008
Highlights:
Revenues from main activities increased by 8.8 % to CZK 15.68 billion
Net income after taxation for the accounting period increased by 12%, reaching CZK 3.88 billion
In the financial year ended 31 March 2008, Plzensky Prazdroj, a. s. confirmed its position as the leading Czech producer and exporter of beer. Income from sales of goods, own products and services has increased by 8.8% to CZK 15.68 billion and net income has reached CZK 3.88 billion. Plzensky Prazdroj is one of the leading contributors to the Czech economy, having paid a total of CZK 4.25 billion in taxes during the past fiscal year.
Mike Short, Chairman of the Board of Directors and Managing Director of Plzensky Prazdroj, a. s., emphasized in his comment on the financial results two key areas: exports and the growth of market value. "The Czech Republic is a stable and saturated market. Therefore we continued our strategy to increase the value of the beer market by providing better customer service, nurturing the Czech beer culture and supporting the premium beer segment. Our export focus continued its solid momentum, achieving full-year export volume growth of 14 %. Sales of our brands abroad were supported by marketing campaigns and contributed to the ongoing enhancement of the Czech beer image, its presentation and consumption."
In terms of volume, our foreign beer sales through export and licensed production increased by 6 % year-on-year, whereas the domestic sales volume increased by almost 1 %. In the domestic market we focused on building our value share. In the premium segment, Pilsner Urquell recorded growth of 3 % and Kozel 11° was up by almost 50%. For the third consecutive year, non-alcoholic Radegast Birell recorded double-digit growth of 44%. The shift of consumers to more premium offerings has resulted in the decline of the lower-priced brands Klasik and Primus by 8%.
The results were influenced by continued capital investments into operations aimed at capacity increase and export growth. In the last twelve months Prazdroj invested CZK 2.77 billion into business development, which is the second highest amount in one fiscal year since SABMiller entered the Czech market. More than one-third of this sum was spent on capacity increase projects in Prazdroj's breweries. The remainder was spent mainly on packaging modernisation. SABMiller has, since 2000, invested CZK 14 billion into the development of the company and its brands.
Financial indicators:


Year ending on
31 March 2008
(CZK thousand)


Year ending on
31 March 2007
(CZK thousand)


Income for sales of goods,  
own products, and services 

15,684,650

14,418,766

Net profit for the accounting   
period after taxation

3,882,196

3,464,574
Contact:
Jiri Marecek
Manager external communication
Plzeňský Prazdroj
+420 724 617 219
X X X