Popularity of non-alcoholic beer growing steadily in the Czech Republic
10.7.2008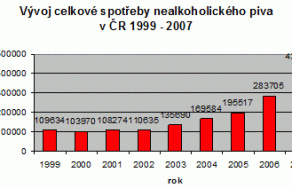 Non-alcoholic beer is getting more and more popular in the Czech Republic. A survey conducted by Plzensky Prazdroj has confirmed that the consumption of non-alcoholic beer is currently approximately five times higher than in 2000 and more than 30% of Czech people older than 18 years have already tried it. Apart from motorists and cyclists, more and more often these are people at work, in restaurants, at home or in the garden. First place belongs to Radegast Birell made by Plzensky Prazdroj – 2 in 3 non-alcoholic beers sold in the Czech Republic.
Development of total consumption of non-alcoholic beer in the Czech Republic between 1999 and 2007
(in hectolitres per year)
An extensive survey has confirmed that non-alcoholic beer has gained a strong position. The survey shows that from the people drinking non-alcoholic beer, as many as 83% enjoy it at least once a week. The most popular time of year is of course summer when non-alcoholic drink refreshes best. Two thirds of non-alcoholic beer consumers are convinced that it can refresh much better than lemonades or sweetened drinks.
Great refreshment and at the same time no limits connected with alcohol consumption – these are the main advantages of non-alcoholic beer appreciated by its consumers. And experts emphasize that non-alcoholic beer contains the same beneficial substances as alcoholic beer. "As for its composition, non-alcoholic beer is actually an isotonic drink, suitable for athletes, drivers and cyclists, and it reduces significantly the risk of injuries. B-group vitamins contained in it help the body gain energy and are important for the nervous system," says Karolina Hlavata, nutritional therapist.
The most popular among the brands of non-alcoholic beers is Radegast Birell, which is at the same time the most known Czech brand of non-alcoholic beer. As many as 94% of consumers have tried it repeatedly. Draught form of non-alcoholic beer has also experienced an increased popularity, as it can provide a perfect refreshment especially in hot summer. Draught non-alcoholic beer has been tried by more than 50% of consumers, most of whom drink it repeatedly. The most widely spread brand of draught beer is again Radegast Birell, currently offered by several hundreds licensed sellers.
More information:
Vladimir Jurina, Corporate Brand Manager, Plzensky Prazdroj, Phone: +420 257 287 223
Anna Balickova, AMI Communications, Phone: +420 234 124 112, +420 724 012 607
x x x

With total sales of over 10.9 million hectolitres in the calendar year 2007 and exports to more than 55 countries around the world, Plzensky Prazdroj, a. s., is a major beer producer in the region and the largest exporter of Czech beer. The major brands in the Czech Republic include Pilsner Urquell, Gambrinus, Radegast, Velkopopovický Kozel and the non-alcoholic brand Radegast Birell.
The beer is brewed in three breweries in the Czech Republic – in the Pilsen brewers, the Radegast brewery and the Velké Popovice brewery.
The Plzeňský Prazdroj, a.s. company is fully aware of its responsibility towards the environment and has adopted a policy of environmental protection as one of its business principles. This involves above all the care of water sources, wastewater treatment, minimization of its carbon footprint, recycling, energy conservation and increased transport efficiency.
Plzensky Prazdroj, a. s. is a member of the global group SABMiller plc., the world's second largest brewer, with brewing interests or distribution agreements in over 60 countries across six continents. Pilsner Urquell is the international flagship of the SABMiller brand portfolio.
Prague