The Velké Popovice Brewery to Invest CZK 220 Million in Fermentation Tanks Installation
17.10.2008
Velkopopovický kozel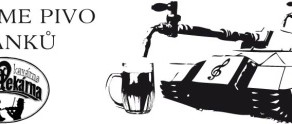 After launching they will save up to 4,000 tons of co2 from fossil resources every year.
A project has started in Velké Popovice today; its first stage will bring to this brewery, member of the Plzeňský Prazdroj group, 14 new cylindro-conical fermentation tanks for beer production. The total investment in the project, planned to be completed at the end of 2009, will be almost CZK 220 million.
The first six CC tanks were installed in Popovice in 2003 and soon another 14 will be added. The new tanks will replace the capacity of open fermentation tanks and it will also be possible to use them at half capacity only, which is important for small scale beer production. At the same time one part of the existing fermentation tank will be preserved for possible production of special beers.
"Traditional recipes and brewing procedures are the key to the popularity of our beers with Czech beer drinkers. We do not intend to change anything here. Technically sophisticated CC tanks will furthermore enable us to precisely check individual parameters of the beer. Fermentation will of course remain separate from after-fermentation, both taking place at low temperatures. The formula, high-quality Czech ingredients technology and experience of our brewers: this is the recipe for the success of our brands. With this step we definitely want to boost he increasing popularity of our beers," says Jaroslav Gubiš, Velké Popovice Brewery Manager.
The construction will proceed in an "emmenthal structure", i.e. first construction of the hall with openings in the ceiling for positioning of the tanks, then construction of support piles and finally installation of the tanks from above. The processes in the tanks will be fully automatic. The project planning takes into consideration the new brewery tour that is being prepared for visitors whose number has been growing every year.
The new CC tanks will replace open fermentation tanks at the end of their operational life where hopped wort is fermented. They will also enable capturing of CO2. The captured gas will be further utilised by barrelling. In total the brewery can save up to 4,000 tons of CO2 every year. The CC tanks also significantly reduce possible risks and enhance work safety.
CO2 capturing is already in operation in the Plzeň and Nošovice breweries, the Popovice brewery will however get the latest and most efficient system currently available on the market.
Contact:
Jiri Marecek
Spokesperson
 +420 724 61 72 19
Pilsen