One Month Earlier this Year: Velkopopovický Kozel Celebrates 1 Million Hectolitres Sold on the Czech Market
3.12.2008
Uncategorized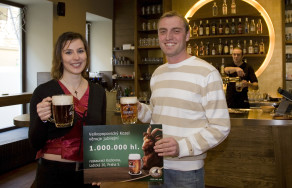 "As this year's sales show, the popularity of Velkopopovický Kozel as a brand of traditionally genuine beer is continually growing. Its sales increased year-on-year by more than 10%. Behind these successes stands, above all, the outstanding quality of the beer which is crafted with the utmost care by the Popovice brew masters, strictly in accordance with the slogan of the brand – "He who knows how, knows how." These good results were also aided by the development of the Kozlovna restaurant network and a number of awards, which the brand received in domestic and international competitions, said Luděk Baumruk, Velkopopovický Kozel brand manager.
In 2008 the sales of Velkopopovický Kozel draft beer rose by 15%. Visitors can experience the pleasure of draft beer in an authentic environment and atmosphere in the brand-name restaurants called Kozlovna. The first of these restaurants was opened in May 2007 in Bystřice nad Pernštejnem, followed this August by a second in the town of Havlíčkův Brod and the week before last saw the opening celebration of a Prague Kozlovna on Lidická Street.
It was Jan Moravec from the Prague Kozlovna, who received a celebratory barrel of Velkopopovický Kozel beer from Anna Rybářová of the Velkopopovický Kozel Marketing Department. Visitors can look forward to a celebration in the form of 100 free beers on Monday, 15 December at 4 p.m.
Velke Popovice