Responsible Drinking: Prazdroj Launches a New Website
19.2.2009
Company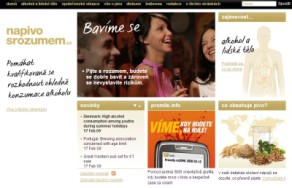 Information on responsible alcohol consumption will appear during 2009 in all Plzeňský Prazdroj spots and other types of communication: the www.napivosrozumem.cz link is to cover 10% of any printed material or 10% of the duration of each spot.
Other European companies belonging to the SABMiller are also going to apply communication rules identical to the ones introduced by Plzeňský Prazdroj. Next to the English version of the www.talkingalcohol.com website, Italian, Spanish, Russian and Polish ones are to appear soon.

"Alcohol has been an integral part of social life for thousands of years. And more than that: according to scientific research, moderate consumption may have some health benefits. The truth is, however, that it can also represent a serious threat to human life and health, mainly in situations such as drink driving or excessive consumption. We want to use our website to inform, besides others, about such situations," says Luděk Kraus from Plzeňský Prazdroj.
Napivosrozumem.cz also provides information on Plzeňský Prazdroj and SABMiller's worldwide responsible brewing approach. According to the agreement of major breweries in Europe, we have made a voluntary commitment that all actors featuring in the Company's advertising must look at least 25 years old and their actual age must also be at least 25. SABMiller adverts may only be placed in newspapers and magazines targeting a public of which a minimum of 70% of readers have reached legal age.
Luděk Kraus explains the principles of responsible communication as follows: "We do not place our billboards near schools, we do not make fun of those who abstain from alcohol, and we are not trying to say that beer helps to reach outstanding result, either in sport or in relationships. In the Czech Republic, moreover, we support the Promile Info service, which is designed to help drivers decide when it is OK to drive and when it is not."
Note for editors:
With total sales of over 10.7 million hectolitres in the calendar year 2008 (including licensed production abroad) and exports to more than 50 countries around the world, Plzeňský Prazdroj, a. s., is a major beer producer in the region and the largest exporter of Czech beer.
Plzeňský Prazdroj, a. s. is a member of the global group SABMiller plc. Pilsner Urquell is the international flagship of the SABMiller brand portfolio.
SABMiller plc is one of the world's largest brewers, with brewing interests or distribution agreements in over 60 countries across six continents. The SABMiller brand portfolio consists of international brands such as Miller Genuine Draft, Peroni Nastro Azzurro and Pilsner Urquell, as well as almost 200 other successful regional and national brands.
Contact:
Jiří Mareček
Manager external communication
Tel.: +420 724 617 219
Prague