Radegast's Horn Of Plenty Has Been Found
11.6.2009
Uncategorized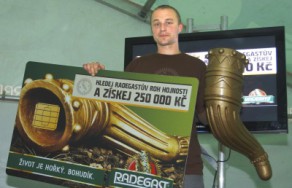 The principle of the competition's first round was to send an SMS or fill out a form on the Web with unique numeric codes that contestants found under the Radegast bottle caps. Every tenth message won one of prizes such as GPS navigation, a multipurpose knife or a map of the Beskids. Fans of draft beer didn't miss out either. After five drawn beers, the bartenders drew one winner who received a price and an SMS code. With the SMS, it was possible to qualify to the finals. Nearly 22,000 people took part in the contest.
The chosen finalists displayed their courage, skill, dexterity and patience in strenuous and attractive events such as jumping in the "seven mile" boots on the track, scaling a climbing wall, driving a quad-bike or eating a mealworm. "Our goal was not to make only the first prize winner happy after the finals, but all other finalists as well. Radegast gave the participants unusual experiences that will create beautiful memories," said Radegast brand manager Pavel Kmínek.
Over 200 people from the ranks of contenders' friends and family members attended the final competition and created a great competition atmosphere. The event was prepared for Plzeňský Prazdroj, a. s., Radegast brand, by Viking Agency from Havířov. Besides the organization, one of the most difficult tasks was the construction of an artificial maze from pipes and black plastic foil.
Notes for editors:

With total sales of 10.7 million hectoliters in the year 2008 and with exports to more than 50 countries worldwide, Plzeňský Prazdroj, a.s. is the leading beer producer in Czechia and the largest exporter of Czech beer. Plzeňský Prazdroj's main brands in the Czech Republic are Pilsner Urquell, Gambrinus, Radegast and Velkopopovický Kozel.
Plzeňský Prazdroj produces beer in three breweries in the Czech Republic – in Plzeň brewery, Radegast brewery and Velké Popovice brewery. There are 13 commercial distribution centers ensuring supply in respective regions of the republic.
The Plzeňský Prazdroj company fully understands its responsibility towards the environment and has accepted the policy of environment protection as one of its business principles. It engages especially in care for water resources, industrial waters cleaning, minimization of CO2 and other emissions, recycling, energy savings and increasing efficiency of transport.
Plzeňský Prazdroj, a. s., is a member of SABMiller plc, the second largest global brewing company worldwide with brewing interests or distribution agreements in over 60 countries across six continents. Pilsner Urquell is the international flagship of the portfolio of SABMiller brands.
Contact:
Jiří Mareček
Manager external communication
+420 724 617 219
Nosovice