Velké Popovice brewery installing new fermentation tanks
15.7.2009
Velkopopovický kozel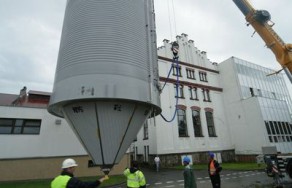 "We are not changing the traditional recipes and brewing methods, as they have been proven over the decades and are the cornerstone of our beers' popularity. The latest technology will help our brewmasters to maintain strict taste parameters of Velkopopovický Kozel that our drinkers are used to," says Jaroslav Gubiš, Velké Popovice brewery manager.
One section of stainless steel vats for beer specials Master 13° and 18° remains in operation in the fermentation room, and it will become a part of the visitor route. Also a small volume of Velkopopovický Kozel beer will be fermented here to ensure the sensory quality of the beer from the tanks remains the same. This is verified by tens of degustations with triangle sensory tests.
"The indisputable advantage of the CC tanks is a 100-percent sustainability of microbiological cleanness of the yeast, which always was, is, and will be a problem with the standard vats. The fermentation will of course continue to take place separately from the secondary fermentation, both in low temperatures. The length of the main fermentation remains the same. We're not changing the fermentation process either, as we stick to the time-tested temperature of pitching and the speed of fermentation," explains Jiří Fusek, brewery's brewmaster.
The new CC tanks also present an ecological advantage, because they allow collection of CO2, which will lead to brewery's self-sufficiency in its consumption. CO2 will be used during beer bottling and the brewery will save up to 4000 tons of CO2 per year. CO2 collection is already in place in Plzeňský Prazdroj breweries in Plzeň and Nošovice; the Popovice brewery will however receive the most modern and most economical system currently on the market.

Technical features:
The new fermentation containers are more than 5 m in diameter and are 18.5 m tall.
The construction is done by a so called emmental structure, i.e. the hall with ceiling openings for the placement of the tanks was built first, then the bearing piles were built, and now the installation of the tanks from the top starts.
1000 tons of concrete were use for the construction of the so called emmental floor.
Over 37 tons of steel were used for the steel reinforcement of the emmental floor, piles and pillars.
Notes for editors:

With total sales of 10.7 million hectoliters in the year 2008 (including the licence production abroad) and with exports to more than 50 countries worldwide, Plzeňský Prazdroj is the leading beer producer in the region and the largest exporter of Czech beer.
Plzeňský Prazdroj, a. s., is a member of SABMiller plc, one of the largest global brewing companies worldwide with brewing interests or distribution agreements in over 60 countries across six continents. The group's brands include major international brands such as Miller Genuine Draft, Grolsch, Peroni Nastro Azzurro and Pilsner Urquell, and almost 200 successful regional and national brands.
Contact:
Jiří Mareček,
Manager external communication
Phone: +420 724 617 219
U Prazdroje 7, 304 97 Plzeň, Česká republika
Velké Popovice