328 Cases Make Up The Logo In The Courtyard Of The Brewery
31.7.2009
Uncategorized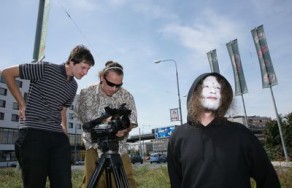 "The spot will be used as official material for support of candidacy for the European Capital of Culture 2015. Young artists from the Multimedia Department at the Institute of Art and Design at Western Czech University are working on it. It can be seen by visitors of the city and of the candidacy website. It will also be included in the supporting materials in the application and will be further used as part of the presentation material," adds Jana Komišová, head of the Department of Public Relations and Marketing of the city of Plzen.
Plzenský Prazdroj supports the candidacy of the city of Plzeň for the European Capital of Culture 2015 and allowed artists from the Institute of Art and Design at Western Czech University to build a logo for the candidacy out of Pilsner Urquell beer crates. The process of building the logo is part of the making of the clip and also part of the promotion of the candidacy. The video will also feature the courtyard in the brewery, the historical Jubileum gate and the filling room.
"Plzen is the beer capital – we say this with a little bit of Czech exaggeration, but of course we are very serious. The title of European Capital of Culture would be nice for a city where the first fermented lager was brewed. Of course, we have been supporting the candidacy of Plzeň for quite some time now and we are happy that the exterior of the brewery can host the making of the spot," says Jiří Mareček, press release officer of Plzeňský Prazdroj.
Notes to editors:

Activities involving the Plzen Prazdroj for visitors of the city of Plzen include the visitors' center, visitors' tour, filling room of the brewery and also the Beer Museum and historical underground area of the city center.
The brewery became a social hub of the region, a place where various cultural, educational, and promotional events take place and it is one of the most attractive tourist destinations in the Czech Republic.
The Beer Museum in Plzen is situated in the old brewery and was kept in its original state in Veleslavínova Street. It was opened in 1959, for the 100th anniversary of the brand Plzeň beer.
Every year the brewery and the Beer Museum welcome more than 185,000 visitors from all around the world.
Contact:
Jiří Mareček, Plzenský Prazdroj, +420 724 617 219
Plzen