Pilsner Urquell celebrates 167th anniversary by brewing for Olympic games in Vancouver
7.10.2009
Pilsner Urquell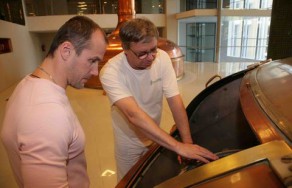 As a partner of the Czech Olympic team, Pilsner Urquell has been, for a number of years, an inseparable part of the lives of Olympic athletes and of their fans during the games. The batch of the brewed lager from Plzeň which will be consumed during the Winter Olympic Games 2010 in Vancouver, Canada, was brewed in the Plzeň brewery on October 6, under the watch of an Olympic hockey player, Martin Straka. "It was interesting to be looking at the hands of brewers at the exact time when the beer was born 167 years ago. In any case, everything went well today, and to be sure, I will taste the beer brewed for the Olympics, before the barrels head for Canada," says hockey player Martin Straka.
"While during the last winter Olympics in Turin, people drank 80 barrels of Pilsner Urquell, we will send 120 barrels to Vancouver and about 200 cartons of beer cans. We are expecting bigger consumption than last time, since the Olympic house will be bigger and also there is a considerably large Czech community in Canada, which will most probably visit the house," says Karel Kraus, brand manager of the Pilsner Urquell brand.
 
An isothermal container with Olympic beer will start its journey in Plzeň, in the second half of November, first to Hamburg and then by boat to Vancouver. It will also bring a lot of equipment necessary to correctly serve beer from Plzeň from a tap, including all the necessary technology and other useful accessories (glasses, coasters, table clothes, etc.).
 
More information:
Vladimír Jurina, Plzeňský Prazdroj, Ph.no. +420 257 287 209, +420 724 617 219
Roman Binder, AMI Communications, Ph. no. +420 234 124 112, +420 724 012 641
Notes to editors:
With total sales of 10.7 million hectolitres in the 2008 calendar year (including licensed production abroad) and with export to more than 50 countries, Plzeňský Prazdroj is the biggest producer of beer in the region and the biggest exporter of Czech beer.
Plzeňský Prazdroj, a. s., is a member of the SABMiller PLC Pilsner Urquell global group. It is an international flagship of the SABMiller portfolio of brands.
SABMiller PLC is one of the biggest beer companies in the world, with activities and distribution in more than 60 countries on six continents. SABMiller's brands include important international brands such as Miller Genuine Draft, Peroni Nastro Azzurro and Pilsner Urquell, and close to 200 successful regional and national brands.
Plzeň