The Airport is first place in the Ústí nad Labem region to serve Gambrinus 11° from tanks
26.10.2009
Gambrinus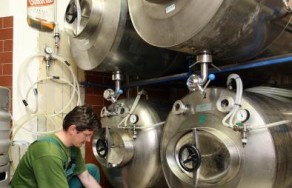 "Patrons will seek out high quality and well-prepared beer, even in hard times and economic trends of the beer market, as witnessed in the decrease of demand for beer from barrels. Even though tanks are suitable only for selected pubs with high volume and excellent care of beer quality, we have to really establish tank facilities in numerous pubs in order to satisfy demand," says Milan Heřman, head of the tank division at the Plzeňský Prazdroj.
Nowadays, the tanks use a system called bag-in-box, in which the beer is stored in a watertight, polypropylene bag and it does not come in contact with air or with the wall of the tank, which positively influences the quality of beer as well as care.
The pub Letiště is in an area called Severní Terasa (North Terrace) and it is becoming the fourth tank facility with Plzeň beer in Ústí nad Labem. And since it is the only tank facility in the region, it will serve the most-sold Czech Gambrinus 11° Excelent. Monthly, about 7000 liters are drunk here from four 500 liter tanks, as the tanker with the Plzeň beer comes here 1–2x a week.
"Our customers were interested in the beer from tanks, and we did not want to have to always run to the cellar and open barrels. A three month reconstruction to a tank facility also required receiving a certificate for excellent care of the beer – the same one we got for serving from barrels. We are still adjusting small details, there is always something that we can work on," says the owner of pub Letiště, Josef Janeček.
The original name of the pub was Horizont, but during the summer, long term customers changed the name to Letiště, due to an unusual, long and narrow layout, which reminded them of an airplane. Four excellent pool teams of the premier league come to practice at Letište.
In the last year, the number of facilities increased the fastest in Czech history. On average, Plzeňský Prazdroj opens about six new pubs with their tanks every month, while during 1994 – 2008, only three tanks were added every month. Prazdroj delivers to about 600 tank facilities with more than 2300 tankers.
No place in Europe and probably no place in the world has such an abundance of tank facilities and of sophistication as in the Czech Republic. It helps that the beer plays a role as the national drink and also the fact that in the Czech Republic it is a tradition to have only one of very few brands of beer on tap.
Notes to editors:

With total sales of 10.7 million hectoliters in the 2008 calendar year (including licensed production abroad) and with exports to more than 50 countries, Plzeňský Prazdroj is the biggest producer of beer in the region and the biggest exporter of Czech beer.
Contact:
Jiří Mareček
Manager external communication
Ph.no: +420 724 617 219
Beginnings of beer tanks
Former "Restaurants and canteens" (RaC) with high capacity (usually at train stations and in the suburbs) used so-called standing tanks. The beer was served with the use of regular air compressors. However, during longer use, the beer came in contact with air and would soon fizz out and loose its vigor. Also, materials which were used – enamel or steel with chipped paints – were not good for the quality of beer. The volume of these tanks was anywhere between 1000 and 1700 liters. To measure served beer, they used a so-called beersign – a tube with a ruler running along the whole height of the tank.
Modern beer tanks contribute to good quality beer
Plzeňský Prazdroj started using the predecessors of today's tank facilities in the beginning of 1990. High capacity tanks from that era were, in comparison with the RaC tanks, a big step forward. But they presented certain risks with insufficient sanitizing of tanks, or of the tubes and incorrect manipulation of beer, or during long periods of serving. These presented a risk of degradation of beer characteristics. This risk was gradually eliminated with a new solution of rustproof tanks with a volume of 1000 liters (also with volumes of 500 liters starting in 2006), in which  beer is stored in a watertight polypropylene bag – a so called bag-in-box system. While serving beer, it does not come in contact with air or with the wall of the tank, which positively influences the quality of beer and its durability.
If the beer is well taken care of, then there is no difference in quality between beer from a tank or from a barrel. While tanks are, from a transportation point of view, very efficient for establishments with high volume, barrels are less expensive and with their smaller volume allow for the quality of beer to stay high even at establishments where it is not drunk as fast. Plzeňský Prazdroj aims to achieve quality in all sizes of establishments by implementing various sizes of tanks (1000 l, 500 l, also barrels of (50 l, 30 l, and 15 l).
The tank facilities serve unpasteurized beer in order to maintain quality. It is necessary to serve the beer out of the tank as fast as possible: approximately within a week, or within three days after opening. Therefore, a necessary condition for installation of a facility is a certain weekly demand for beer. Ideal volume for large beer tanks (volume of 1000 l) is 2000 l per week and for small beer tanks (volume of 500 l) 1000 l per week. The price of a tank facility varies based on installation, but usually it is around 650 – 800 thousand Czech Crowns (37,013.60 US$) per tank facility.
Beer from tanks has advantages mainly for managers of establishments – they don't need as much room for storage of barrels and they don't have to run often to the cellar in order to open another barrel. Beer cooling in a tank is also energy efficient.
Ústí nad Labem