Documents discussing brewing techniques and taste characteristics of Pilsner Urquell beer were stored in the historical water tower of the Plzeňský Prazdroj brewery
13.11.2009
Pilsner Urquell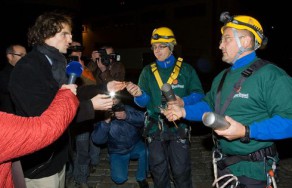 The speed with which society and the rhythm of life change will probably increase in the future. Fortunately, the same unvarying quality which has not changed in centuries – Pilsner Urquell beer – remains from the time of Josef Groll. During its entire existence, it has been brewed based on the same recipe, with the same process, and the taste remains the same.
"In order for Pilsner Urquell to remain a stable and unchanging point, we want our successors to know: follow the strict brewing processes of Pilsner Urquell beer, based on the provided diagram for mashing and based on records dealing with the fermentation process, and brew beer with such characteristics, which support analyses provided by independent laboratories from 1897 and 2008*," said Václav Berka, senior business brewer while depositing the documents into metal cases.
"We are continuing in a tradition which started with the establishment of the brewery in 1842 – during historically important moments, its owners usually placed important documents from that era in symbolic places in the brewery, so that they remained there for future generations. On the 150th anniversary of the registration of the trademark of the only, the original "pilsner" type of beer, which took place in 1859, we are placing a message for future generations in the peak of the historic water tower of the brewery, so that it symbolically looks over the whole brewery," says Karel Kraus, brand manager of the Pilsner Urquell brand.
* These are documents from the laboratory of the Research Institute of Brewing and Malting, Plc. in Prague and from the Swiss Labour Veritas laboratory in Zurich, which compared current results with results from the Chemical Research Centre in Plzeň and chemical laboratory in the Swiss St. Gallen. The results have shown that Pilsner Urquell had practically the same values in the years 1897 and 2008, which means the same quality.
More information:
Vladimír Jurina, Plzeňský Prazdroj,
Ph. no: +420 257 287 209, +420 724 617 219
Roman Binder, AMI Communications,
Ph. no.: +420 234 124 112, +420 724 012 641

Notes to editors:

With total sales of 10.7 million hectolitres in the 2008 calendar year (including licenced production abroad) and with exports to more than 50 countries, Plzeňský Prazdroj is the biggest producer of beer in the region and the biggest exporter of Czech beer.
Plzeňský Prazdroj, a. s., is a member of the SABMiller PLC. Pilsner Urquell global group is an international flagship of SABMiller brands.
SABMiller PLC is one of the biggest beer companies in the world, with activities and distribution in more than 60 countries on six continents. SABMiller's group of brands includes important international brands such as Miller Genuine Draft, Peroni Nastro Azzurro and Pilsner Urquell, and close to 200 successful regional and national brands.
Plzeň