This year, 40,000 drivers have already used the Promile INFO service
4.12.2009
Company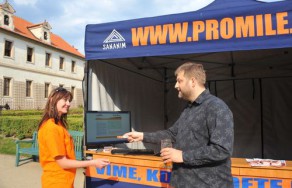 The service was invigorated by the introduction of Promile INFO on the Internet. This new access to the service, which helps users to find out the approximate level of alcohol in the blood, was used by about 20,000 people. The service also became more attractive due to  a decrease in the price. This was lowered from the original 20 Czech crowns ($1.17 US) to 9 Czech crowns ($0.53 US). This was possible because of a strategic partnership with Plzeňský Prazdroj. The service, together with instructions for use, was promoted on 1.7 million beer-bottle labels of the Gambrinus and Pilsner Urquell brands.
"Very often we come across people who know of the service, mainly from beer labels. Some don't even want a card, they admit that they already have a beer coaster at home, or they carry it on them, so that they can use the service according to the instructions, in case of need," says Olga Hanková, who works for the civic association SANANIM and who has been promoting this service for a long time.
Another new feature is a JAVA application, with which a user can send his/her request a lot easier and more conveniently from his/her cell phone. The application can be downloaded free of charge at www.promile.info. Users of advanced mobile technologies can also get the application through Bluetooth data transfers at music festivals. In the near future, Plzeňský Prazdroj will instal a Bluetooth receiver in its brewery in Plzeň, so that the application can be downloaded for free.
For more information:
Josef Šedivý, civic association, SANANIM
e-mail:
Ph.: +420 602 311 799

Jiří Mareček, Manager external communication, Plzeňský Prazdroj, a.s.
e-mail:
Ph.: +420 724 617 219
 
Civic association SANANIM
The civic association SANANIM is one of the oldest in the Czech Republic (established in 1990) and today it is also the biggest provider of non-governmental services in the field of prevention, care, treatment and integration of addicts addicted to non-alcoholic drugs. Currently it administers eleven main centers – Field Programmes, Contact Centre, Specialised Outpatient Services CADAS, Daily Social Welfare Institution, Therapeutic Communities Karlov and Němčice, Aftercare Centre with apartments and a workshop, Centre For People In Conflict With the Law, Agency for Employment and Social Services, Consulting Room for parents – and offers various supplementary projects or programmes. Among some of the most important ones are telephone consulting and information services (drug information centre, Promile INFO, Alkotest, etc.), the field programme for the Roma and a programme for mothers with children. Other projects focus mainly on education, primary prevention, publication of articles and international cooperation.
Plzeňský Prazdroj as a responsible beer producer
Plzeňský Prazdroj, a.s. takes an active part in the prevention of negative consequences of excessive or unacceptable alcohol consumption and helps advocate a responsible attitude towards alcohol consumption, whether it be independently or as part of the Initiative of Responsible Breweries.
With total sales of 10.7 million hectolitres in the 2008 calendar year (including licensed production abroad) and with export to more than 50 countries, Plzeňský Prazdroj a. s., is the leading producer of beer in the Czech Republic and the biggest exporter of Czech beer. Plzeňský Prazdroj is a member of the SABMiller PLC, one of the world's largest beer companies.
How does Promile INFO work
The service is run via text messages, WAP or the Internet, www.promile.info
How can you use the service from your cell phone? Based on simple guidelines through the JAVA application, the user will send a text message with a request including information about his/her sex, age, weight, about when he/she began consumption of alcoholic beverages, what kind of alcoholic beverages and what amount.
Within a minute, the user will receive a response with information about his/her current level of alcohol in blood, together with an approximate time when his/her level will drop to zero. Part of the response is also information about risk connected to the level of alcohol in one's blood.
One "Promile INFO" costs 9 Czech crowns ($0.53 US). The money will support programmes for prevention and for treatment of addictions at the SANANIM civic association as well as for development and management of the actual service.
The main partner of the service is Plzeňský Prazdroj, a leading beer company in Central Europe, which promotes responsible consumption of alcoholic beverages. 
Prague