Either finals of the first league or a shift at the brewery
17.2.2010
Radegast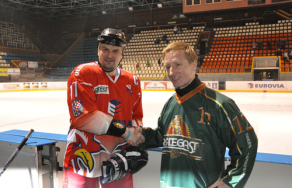 "I am sure that my teammates would love to see me work hard at the brewery. But I am sure that if we go to the finals of the first-league playoffs, it will be a bigger adventure for all of us," says Olomouc hockey team Captain Richard Brančík. If he loses the wager, he hopes that at the brewery he will be given something interesting to do. "Maybe I would be good as a taster, I certainly know good beer," added Richard Brančík with a smile.
Radegast representative Petr Kouble is not worried about the work that waits for him if he loses. Although he admits that there might be slight complications: "I will be fine with cleaning the locker room, but I presume that the players will make it more interesting for me. When it comes to taking care of players' needs, I am sure that a professional from the Olomouc team, Petr Přecechtěl, will help me out."
Notes to editors:
The Radegast brewery, which is one of the most modern breweries in the Czech Republic, has been brewing beer since 1970.
Since 1999, Radegast brewery has been part of the largest beer conglomerate in the Czech Republic, belonging to Plzeňský Prazdroj, a.s.
Yearly, it produces more than 2.2 million hectolitres of beer, with the help of approximately 270 employees.
It produces beer called "classic Czech lager" and it also produces high-quality malt in its own malt house.
In 2008, the brewery brewed its ten billionth beer.
With total sales of 10.7 million hectolitres in the calendar year of 2008 and with export to more than 50 countries, Plzeňský Prazdroj a. s. is the leading producer of beer in the Czech Republic and the biggest exporter of Czech beer.
Plzeňský Prazdroj employs approximately 2,500 employees in the Plzeň, Radegast (Nošovice) and Velké Popovice i breweries and in 13 distribution centres around the Czech Republic.
Plzeňský Prazdroj, a. s. is a member of the SABMiller PLC group, one of the biggest beer companies in the world, with activities and distribution in more than 60 countries on six continents.
Contact:
Jiří Mareček
Manager external communication
Ph. no: +420 724 617 219
Olomouc