Gambrinus is the most sold beer from tanks
19.3.2010
Gambrinus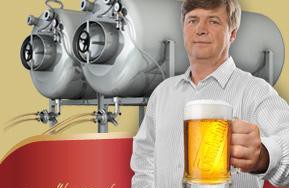 In comparison with European or even with worldwide standards, Czechs are leaders in workmanship and in distribution of their national drink served from tanks. While their interest in beer from tanks is growing steadily, it is increasing the number of pubs which serve beer from tanks. Gambrinus could be an example of this. Currently about every tenth Gambrinus beer comes from a tank. Restaurants that offer this beer will from now on have specific signs, which say, "Here we serve unpasteurized Gambrinus from a tank."
"The advantage of tanks is that the beer will be stored under the best conditions with a constant temperature of 7–10 °C. The beer also does not come in contact with oxygen, so it does not oxidise and it keeps its optimal and natural amount of CO2, which guarantees the right rigour", says a senior brewer from Gambrinus, Jan Hlaváček.
Beer from tanks furthermore offers the same quality and taste as beer served from classic beer barrels. However, beer from tanks increases efficiency in restaurants where a high volume of beer is served. Opening of new barrels, which until now slowed down traffic and service at pubs with high volumes during rush hour, is today replaced by high-volume tanks, which hold 1000 or 2000 beers.
"If the beer is well taken care of, then there is no difference in quality between beer from a tank or from a barrel. While tanks are very efficient for establishments with high volume from the transportation point of view, barrels are less expensive and with their smaller volume allow for the quality of beer to stay high even at establishments where it is not drunk as fast," explains Jan Hlaváček.
For more information about Gambrinus pubs with tanks visit www.gambrinus.cz
Contact:
Vladimír Jurina
PR Brand Manager
Ph. no. : +420 724 617 886
Prague