The brewery gave half a million czech crowns to Velké Popovice
26.4.2010
Company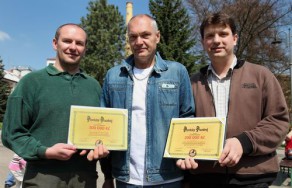 The town of Velké Popovice received two monetary gifts from the brewery in total of 500,000 Kč (26,216.50 USD). The first cheque of 200,000 Kč (10,486.60 USD) is to be used in finishing the construction of an outside playground for children including swings in Velké Popovice, putting up signs to make navigation around Velké Popovice easier for visitors, and finally, widening a road leading to the dam by the fishing pond. The second cheque of 300,000 Kč (15,729.90 USD) will support the purchase of a plot of land for a pedestrian zone from the gas station to the brewery's pond, together with the architectural study of a roundabout. The primary school in Popovice won't be left behind. Here the funds will be used to improve hygiene – specifically for the purchase of sinks.
"The financial support which Velké Popovice received from the brewery is a result of a long-term cooperation, which was declared back in 2008. Based on this declaration, our brewery works in cooperation with Velké Popovice on supporting tourism, on fostering cultural and social relationships, on protecting the environment, and on the development of community events and of transportation," states the manager of the Velké Popovice brewery, Jaroslav Hacko.
The actual donation of funds took place at the Velké Popovice brewery, where right after the cheques were handed over, the programme continued with the baptism of goats which were born only a few weeks ago at the brewery. They are the offspring of Olda, the goat mascot. Jiří Fusek, senior brewer, is the new godfather to the little goats.
More information:
David Frodl, Ogilvy Public Relations, Ph. no.: +420 221 998 410, +420 724 244 473, email:
Prague