Plzeňský Prazdroj is gaining a stronger position in the specialty beers market
18.5.2010
About beer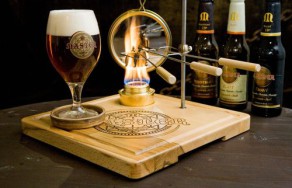 The Master beers are true specialty beers, on account of their strength and their recipe. We use only the best ingredients in the brewing process which create a distinctive, refreshing, bitter taste. A combination of light, caramel and Bavarian malt creates an unforgettably bright color and body for these beers. "And it is this bitterness that distinguishes Master specialty beers from its competition in beer taste tests, which are currently being offered throughout the market," explained, senior business brewer at Plzeňský Prazdroj, Václav Berka.
The first Master "dessert" from the masters at Plzeňský Prazdroj was introduced on the market in April 2007 and it has since developed a strong fan base. Until now, Master beer was available in only two varieties, both on tap: Master Polotmavý (amber) 13° and Master Tmavý (dark) 18°. You can already enjoy the taste of these specialty beers at 600 establishments. And now, Master will be introduced in bottles. "Increased demand for Master beers inspired us to introduce this bottled alternative, so that our customers can enjoy a Master wherever and whenever they feel like taking a moment to savor something special," adds Václav Berka.
But that is not the only news about Master this year. "The brand established itself well on the market. Therefore, we decided to expand the brand with a new tasty alternative – Master Zlatý (gold) 15°," said Radka Jurásková, junior brand manager of the Master brand. Based on market research, Czech beer drinkers have been experimenting with beer of late, but they research also shows that they prefer a classic bitter taste over a sweet taste. Believe it or not, research shows that the Master specialty beer is also popular among women. Specialty beers have been gaining a stronger position among their competition in the Czech Republic, but in comparison with other international markets, ours is still a fledgling market.
"In Germany, for example, specialty beer is a real hit and the number of specialty beers that are available, as well as customer demand, has increased in recent years," said Tiarnán Ó Haimhirgin, Director of Plzeňský Prazdroj. "We see the same potential in the Czech market, where we would like to meet our customers' demands by offering additional flavors, while also offering more options for when they can enjoy a dessert beer," he explains.
The brand communicates the right option in its brand new ad campaign "For a moment. Stop time". A campaign with a brand new design will be launched in May. During this month, fans of the Master beer can buy it at select supermarket chains.
About beers from the Master family
Master Zlatý (gold) 15° is a specialty beer with a golden color. It will surprise you with its refreshing bitterness and its lightness. It is 6.7% alcohol. We use only the best ingredients in the brewing process which create a distinctive, refreshing taste, which differs from that of classic lagers. Master Zlatý is new on the market and is adding to the portfolio of Master specialty beers.
Master Polotmavý (amber) 13° is excellent 13º specialty beer with a higher drinkability. It is distinguished by a refreshing bitterness, a balanced body, and a hint of caramel. It is 5.3% alcohol. A combination of light, caramel, and Bavarian malt creates an unforgettably bright amber color, which together with the aroma of the hops from Žatec, highlights a unique savory experience.
Master Tmavý (dark) 18° is a surprisingly light beer for a dark 18º specialty beer. It has a uniquely full, caramel flavor married with a distinctive yet refreshing bitterness. It is 7% alcohol. The combination of a light Bavarian malt with caramel and colored malts creates a unique harmony of flavor and aroma, which together with impenetrable dark color and creamy foam complete the masterpiece.
More information about Master specialty beer is available at www.pivomaster.cz.
Did you know that…
… the inspiration for the original recipe was a historical text from a book by Tadeáš Hájek from Hájek "Memories of Czech beer making or about beer and its production, its character, its strengths and characteristics," from 1585. It describes dark beer with a distinctly refreshing bitter taste, which is married with the sweetness of caramel, which distinguishes it from other beers.
…the measuring value of the Master beer – 0.355 l – was set based on an old Czech measuring value called žejdlík (mug) (0.3537 l)? This value was approved by appropriate authorities, and pub owners used it as a the basis for serving their quality beer or other tasteful drinks. A žejdlík came with a nail with indicted the correct level of liquid in the mug, and if the pub owner cheated his customers, the mug was broken and the pub's license was revoked. Therefore, lovers of Master are guaranteed that the level of beer in the bottle will be based on this tradition, "always the right amount".
…this beer has a mysterious legend? It is said that he who knows how to properly savor this refreshing drink, will himself become a master, and as proof, a ghost of an unknown master will show itself as the person's shadow.
…in 61 establishments around the Czech Republic, you can witness a mysterious beer ritual, where right before your eyes beer poured from a tap without foam becomes a refreshing drink with a creamy, thick, foam? You can find a list of these establishments at the Master website www.pivomaster.cz.
Notes to editors:
With a total sale of 10.5 million hectoliters in the 2009 calendar year (including licensed production abroad) and with exports to more than 50 countries, Plzeňský Prazdroj, a. s., is the leading producer of beer in the Czech Republic and the biggest exporter of Czech beer.
Plzeňský Prazdroj, a. s., is a member of the group SABMiller plc. Pilsner Urquell is an international flagship in the portfolio of SABMiller brands.
SABMiller PLC is one of the biggest beer companies in the world, with activities and distribution in more than 60 countries on six continents.
Prague