ŠtamGasts (regulars) loyal to Gambrinus from Eastern Czech Republic met at the Gambrinus brewery. Among them is also the three thousandth regular, ŠtamGast
24.6.2010
Gambrinus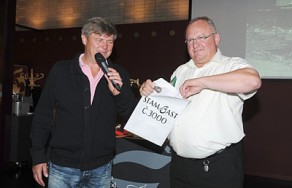 Two to three times a week, the Gambrinus ŠtamGast program welcomes a group of five pub owners and their five most loyal regulars. Together they visit the Gambrinus brewery and taste unfiltered beer directly from CK tanks. Regulars have the opportunity to meet the brewers, to get to know the production process, they can serve their own beer and also enjoy the feeling that their loyalty is appreciated.
"I really had fun during the ŠtamGast program, together with my friends from our pub in Vamberk. I am glad that I was able to see behind the scenes of Gambrinus and that I was able to taste unfiltered beer directly from the source. I am also going to use the serving tips I got," says Jiří Jedlička, three thousandth participant of the ŠtamGast program, from Na pětce restaurant in Vamberk.
Rostislav Šponar, pub owner of the Na pětce restaurant adds: "To be a regular doesn't mean that you always sit at the pub and drink liters of beer. A true regular can savor his brand, he likes to find out more about it and can create the right atmosphere with friends when in the pub."
"Regulars are true lovers of Gambrinus, our consumers and regulars in their favorite pubs, we would like to thank them this way for their patronage. We chose an untraditional form and it was very successful and we hope that it will please a lot more ŠtamGasts from around the country," stated Jan Hlaváček, senior brewer from the Gambrinus brewery.
Contact:
Vladimír Jurina
PR Brand Manager
Ph. no. : +420 724 617 886
Plzen