Radegast to commemorate its 40th anniversary with a series of events
21.7.2010
Radegast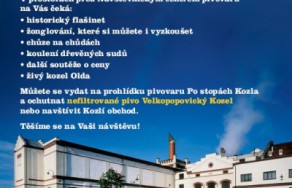 "This year it is all about the 40th anniversary and its celebration, in which we would very much like to have our customers participate," says Pavel Kmínek, Radegast brand manager.
Deep in the summer those who love challenges will set off from the statue of Radegast on a 25-mile long trans-Beskyd hike that will end in the Radegast brewery. This should really challenge their physical condition and prepare them for the main event – the Radegast Day in Nošovice, on Saturday, 11th September.
"This year, Radegast Day will be fully dedicated to our anniversary. It will also see the opening of the new Visitor Centre, and certainly, on that occasion, we will not miss the traditional yeast lager Radhost," added Pavel Kmínek. The Visitor Centre will show the brewery's history in pictures and historical artefacts. A movie theatre and a souvenir shop carrying a wide range of items from the Radegast collection will round out visitors' experience.
Another plan involves a reunion of those who remember the brewery's foundation. Many may have valuable materials and information about its history. One who is certain to be remembered is the father of Radegast beer and one of the biggest figures of Moravian beer brewing, Mr. Jaromír Franzl.
On the exact date of the anniversary, 3rd September 2010, an anniversary Radegast barrel will be drawn. But Pavel Kmínek did not want to share details: "Exactly what it will look like remains secret for now. It should be a surprise for everybody."
Notes for editors:
The Radegast brewery is one of the most advanced breweries in the Czech Republic. It has produced beer since 1970.
In 1999, Radegast became an integral part of the biggest beer brewing group in the Czech Republic, Pilsner Urquell, Inc.
With approx. 270 employees it produces over 48.4 million gallon of beer ( 2.2 million hl.) per year.
Radegast products fall into the category of "classical Czech lager." The brewery also produces quality malt in its own malting plant.
The brewery's 10 millionth beer left its premises in 2008.
The Radegast brewery is a part of Pilsner Urquell, which is a leading beer producer in the Middle European region with its sales of 231 million gallons of beer (10.5 million hl.) in 2009 and export activities in more than 50 countries worldwide. Pilsner Urquell is also the biggest exporting company of Czech beer.
Pilsner Urquell employs approx. 2400 people in Plzeň, Radegast (Nošovice) and Velké Popovice, as well as in its 13 distributing centres all over the Czech Republic.
Pilsner Urquell, Inc. is a member of the group SABMiller plc., one of the biggest brewing companies worldwide whose brewing and distributing activities stretch over more than 60 countries and six continents.
Contact:
Jiří Mareček
Manager external communication
Ph.: +420 724 617 219
Nosovice