Birell is introducing a new amber alternative
4.8.2010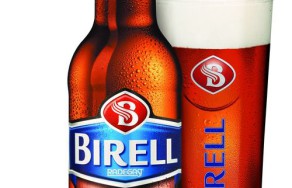 The popularity of non-alcoholic beer has increased dramatically over the last few years, and it has stabilized its position in the market. Last year, however, difficult economic times resulted in a slight decline in sales overall. But despite unfavorable market conditions, Birell, the most popular Czech non-alcoholic beer, retained its position, and even recorded a slight increase. "With a 60% market share, the non-alcoholic beer Birell is the biggest player in the market, and we see its potential," said Tom Verhaegen, Director of Marketing of Plzeňský Prazdroj. "New amber Birell is just another way to grow the brand."
The amber Birell will have an amber color, which results from caramelized malt. This naturally also affects the taste. "The new amber Birell has a less bitter taste than its lager variation, because particles of the caramelized malt gently mask the bitter parts of hops," said Pavel Průcha, brewer from Plzeňský Prazdroj. "The amber Birell is of course brewed the same way as the classic Birell, which means consumers can look forward to the gentle bitter taste of real beer." Special yeast, which produces very little alcohol, allows the Birell beers to go through the entire process of fermentation, just like classic Czech beers do as well.
Its gentle bitterness and caramel tones will speak mainly to female consumers. "Women in general prefer darker beers," said Martina Kuncová, Brand Manager of the Birell brand. "Based on studies, women have a 15 % share in lagers, while in the category of dark beers, of which more than 90 thousand are drunk every year, women have a share of 40%," According to TNS AISA, an agency, women represent 24% of Birell consumption. "The new Birell is going to satisfy mainly ladies' taste buds," Kuncová continued. "We believe that they will enjoy the new product and that the amber Birell will open the category of non-alcoholic beers to new consumers." According to a study conducted by the Canadean, Czechs drank 5.03 liters per person in 2008, and they second in the world in non-alcoholic beer consumption. Spain was the only country with a higher consumption rate, and even then the Czech Republic was only half a liter behind. Birell was prominently represented in this study, since two out of every three non-alcoholic beers sold bear that brand name.
Consumers and professionals alike value the quality of Birell beers. In 2010, Birell received the highest award in the category of non-alcoholic beers at the Zlatý pohár (Gold Cup) PIVEX 2010 competition, marking the brand's third win in this category. Its true beer characteristics are also valued around the world; let us remember its successes in international competitions like the Australian International Beer Awards 2010 and World Beer Cup 2008.
Contact information for media:
Jiří Mareček
Manager external communication
Plzeňský Prazdroj, a. s.
Cell phone: (+420) 724 617 219
email:
www.prazdroj.cz
Lucie Neubergová
Account Manager
Native PR, s. r. o.
Tel.: (+420) 221 592 450
email:
www.nativepr.cz
Prague