Today, Gambrinus had a grand opening of a sightseeing tour of its brewery
25.8.2010
Gambrinus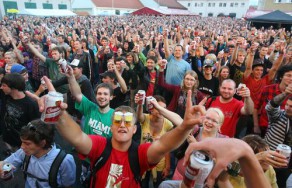 "I think that it is very important that all fans of Czech beer know as much as possible about Gambrinus, for example that the beer, which we make here, is brewed based on traditional recipes from best ingredients and with the use of the newest information of human knowledge, which can be found around the world. I am certain that everybody who experiences the sightseeing tour of Gambrinus will become a lifetime ambassador of this great beer," says Douglas Brodman, General Director of Plzeňský Prazdroj, a.s.
Famous personalities from Czech soccer were also present at the grand opening. Gambrinus has been supporting soccer for a long time and on all levels, from representation through a Gambrinus league to professional soccer teams. The chairman of the Czech-Moravian soccer club, Ivan Hašek, together with Vladimír Šmicer, Manager of the Representation, watched legendary Antonín Panenka who, in the Gambrinus Arena, re-created his famous shot from Belgrade.
Preparation and work for the opening of the sightseeing tour at the Gambrinus brewery took more than a year. "My family has been tied to the Gambrinus brewery for over 70 years. I think that if my granddad and my dad are looking at us today from beer heaven, they are pleased that the brewery will offer with this new Visitors' Center an opportunity for all Gambrinus fans to look at what generations of brewers built and what Gambrinus offers to its fans today," says Jan Hlaváček, senior brewer from the Gambrinus brewery, a member of one of the most famous Czech beer dynasties.
The tour starts in the courtyard of Plzeňský Prazdroj, where visitors are taken by bus to the Gambrinus brewery. Professional tour guides are in charge of the tour. The beginning of the tour includes information about the brewery's history and about the brewing process and ingredients which are used to make Gambrinus beer. After that, visitors head to the Gambrinus Arena, where they actively experience the brand – whether it be its history or its connection to soccer or to the music scene. The last part is dedicated to tasting Gambrinus beers and a practical lecture about beer, how to serve it and care for it. Visitors will have the opportunity to serve their own beer and to find out how to correctly take care of it, so that it retains its high quality.
The sightseeing tour at the Gambrinus brewery is open daily. Those interested can find the specific schedule of the tour at www.gambrinus.cz or at 377 062 888. The sightseeing tour takes about 100 minutes and the capacity is maximum 40 people. Standard tickets are 120 Kč, (6.10 USD).
For more information:
Linda Šviantková, Ogilvy Public Relations, mob.: +420 606 467 132, tel.: +420 221 998 253
Vladimír Jurina, Manager of the Corporate Brand, Plzeňský Prazdroj, Ph. no.: +420 724 287 223
Plzen