Pilsner Urquell introduces new packaging for 11 bottles
6.9.2010
Pilsner Urquell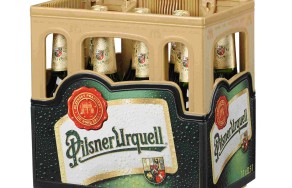 "The new half case is definitely half the weight of the traditional one. This way, we are trying to offer our consumers a more convenient shopping experience of Pilsner Urquell, in refundable packaging, which means that it is more ecological," said Karel Kraus, manager of the Pilsner Urquell brand.
While the traditional case of 20 bottles weighs more than 17 kg, the half case with its 11 beers weighs only about 9 kg. This means that the weight of the half case is nearly identical to the weight of six 1.5-liter mineral waters, which our consumers often carry or move using only one hand.
Refundable packaging means more ecological packaging. Consumers can return the case to a store together with the empty bottles, and the price for the case is fifty crowns (.60 U.S.). Abroad, these half cases are readily used for packaging, and the Czech Republic probably won't be an exception.
In the near future, distribution of new half cases of Pilsner Urquell will begin with delivery to some supermarket chains. The first will be the hypermarket chain Globus, where consumers can already buy beer in this new packaging this weekend. Starting in October, the half cases will be available in other supermarket chains.
For more information:
Vladimír Jurina, Plzeňský Prazdroj, Ph.no: +420 257 287 209, +420 724 617 219
Notes to editors:

With total sales of 10.5 million hectoliters in the 2009 calendar year (including licensed production abroad) and with export to more than 50 countries, Plzeňský Prazdroj is the largest producer of beer in the region and the largest exporter of Czech beer.
Plzeňský Prazdroj, a. s., is a member of the SABMiller PLC Pilsner Urquell group. It is an international flagship of SABMiller portfolio of brands.
SABMiller PLC is one of largest beer companies in the world, with activities and distribution in more than 60 countries on six continents. SABMiller includes important international brands such as Miller Genuine Draft, Peroni Nastro Azzurro and Pilsner Urquell, and close to 200 successful regional and national brands.
Plzeň