Any chance of a Czech national finally winning the world beer draughting competition?
8.10.2010
Pilsner Urquell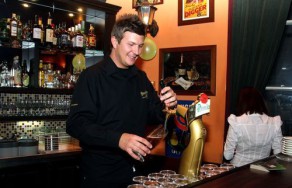 Seventeen bartenders qualified for Pilsner Urquell Master Bartender, the best from the national competitions. Next week they will compete in a tough contest for the title of the world's best bartender in Prague and Plzen. The winner of the finals receives a 10,000 Euro premium.
"I think it's time for a Czech to win, who would naturally have the closest relation with Pilsner Urquell beer," says Lukáš Svoboda. He confidently adds, "I hope that I can build upon my experience from the past contests." Lukáš Svoboda is alluding to the first international finals of the contest in 2006 that took place in New York and in which he won silver.
",The quality of this contest has been increasing. Lukáš Svoboda has, of course, a good chance of succeeding in the international competition. We can see that the interest in the superb skills of draughting and knowledge of Pilsner Urquell is gaining ground not only in the Czech Republic," notes the senior commercial brewer in Pilsner Urquell, Václav Berka. Berka is also a member of the contest's international jury.
The Pilsner Urquell Master Bartender contest is intended for aspiring bartenders who are enthusiastic about both their profession and Pilsner Urquell lager beer. For an ordinary bartender to become world–class, more is necessary than just being able to draught beer well. Other equally important aspects for the jury to consider are charismatic demeanour, the art of presenting beer as a unique drink, knowledge about the production and history of beer, and how to tend to it properly.
More information:
Vladimír Jurina, Pilsner Urquell, phone +420 724 617 219
Notes for editors:

With its sales of 231 million gallons of beer (10.5 million hl.) in 2009 and export activities in more than 50 countries worldwide, Pilsner Urquell is a leading beer producer in the region and the biggest exporter of Czech beer.
Pilsner Urquell, Inc. is a member of the SABMiller plc group. Pilsner Urquell is the flagship of SABMiller portfolio.
SABMiller plc is one of the biggest brewing companies in the world, with brewing and distribution in more than 60 countries and six continents.
SABMiller group includes important international brands such as Miller Genuine Draft, Peroni Nastro Azzurro and Pilsner Urquell, in addition to almost 200 successful regional and national brands.
Prague