A regular from Kravař received 200 beers
8.10.2010
Radegast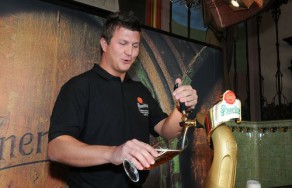 "Our goal at the Day with Brewer is to show innkeepers and restaurant-goers that we brew beer from the best raw materials according to the traditional recipes designed for the brewery by its first brewer, Mr. Franzl. We also teach them how to take care of beer in the restaurant or pub in order to keep its excellent taste," specified the Radegast commercial brewer Zdeněk Baszczynski on the objective of the event.
Day with Brewer is very much loaded with activity. When the inn owner/keeper arrives at the brewery with his colleagues and guests, they take part in a four–hour session on the history of brewing, the raw materials and beer brewing procedures. The Radegast brewery commercial brewer leads the session. After that, they set off for an extended brewery viewing and try their luck as tasters. An important part of the programme covers information on quality beer care in restaurants and proper draughting.
Most of the participants leave the brewery after Day with Brewer with a certificate that attests to their successful completion of the final test.
Notes for editors:
The Radegast brewery is one of the most advanced breweries in the Czech Republic. It has produced beer since 1970.
In 1999 Radegast became an integral part of the biggest beer-brewing group in the Czech Republic, Pilsner Urquell, Inc.
With approx. 270 employees it produces yearly over 48.4 million gallons of beer (2.2 million hl.).
Radegast products fall into the category of "classical Czech lager." The brewery also produces quality malt in its own malting plant.
The brewery's 10,000,000,000th beer left its premises in 2008.
The Radegast brewery is a part of Pilsner Urquell, who is a leading beer producer in the Middle European region with its sales of 231 million gallons of beer (10.5 million hl.) in 2009 and export activities in more than 50 countries worldwide. Pilsner Urquell is also the biggest exporting company of Czech beer.
Pilsner Urquell employs approx. 2400 people in Plzeň, Radegast (Nošovice) and Velké Popovice, as well as in its 13 distributing centres all over the Czech Republic.
Pilsner Urquell, Inc. is a member of the group SABMiller plc., one of the biggest brewing companies worldwide, whose brewing and distributing activities stretch over more than 60 countries and six continents.
Contact:
Jiří Mareček
Manager external communication
Phone: +420 724 617 219
Nošovice