Happy and Light Christmas Holidays
20.12.2010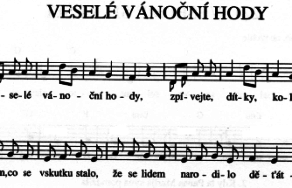 Based on surveys, the average Czech person puts on, on average, two to three kilos (4.4–6.6 pounds) during the holidays. More than a third of the population are overweight and a fifth of the population suffer from obesity. These aren't positive statistics. You don't have to waste much time figuring out the reason for this: potato salad, sweets, lemonades, liqueurs and champagnes to make toasts. All of these have a lot of sugar and fat. Empty calories are adding up. High consumption of sweet Christmas cakes and drinks not only causes guilt and make it so you can't button your pants, it causes serious health problems.
However, Christmas is no different from any other day of the year. With the upcoming celebration of the end of the year, we should consume within reason. "If we cannot resist the vanilla cookies during the holidays, we should at least minimise intake of sweet lemonades and replace them with drinks with less calories, such as non–alcoholic beer, again within limits. You can put into your potato salad plain yogurt instead of mayonnaise," advises Iva Málková, a nutrition and healthy lifestyle specialist and founder of the STOB association. This way you reduce calories by up to a quarter. The best alternative to high–calorie drinks is non-alcoholic Birell beer, which has only half the calories of sweet lemonades and includes numerous vitamins and minerals that we tend to forget during the holidays. In comparison to fizzy drinks, a bottle of Birell will be better for you by 600 kJ. Looking at the caloric value of a juice, you will find that Birell has only a third of the kilojoules. By comparison, ice teas contain 200 more kilojoules.
All your guests will appreciate the unique taste of Birell, not just men. For ladies, Birell created the amber option which has a slight hint of caramel. Based on a survey by Ipsos Tambor, most people visiting loved ones over the holidays would appreciate non-alcoholic beer — actually, more people than those who prefer water or sweet lemonades.
Caloric value of specific groups of drinks
| | |
| --- | --- |
| Nápoj | Drink Energy value |
| Birell | 80 Kj |
| Energy drinks | 190 Kj |
| Fizzy drinks | 200 Kj |
| Cold drinks | 120 Kj |
| Juices | 230 Kj |
| Eggnog | 1 400Kj |
Stated kilojoules are the maximum value in individual categories in 100 ml (0.2113 pt)
Caloric value of typical Christmas dishes
| | |
| --- | --- |
| Christmas food | Christmas food Energy value |
| Potato salad with mayonnaise | 2 000 kJ / 250 g |
| Potato salad with yogurt | 1 500 kJ / 250 g |
| Fish soup | 1 100 kJ / 250 ml |
| Fried carp | 2 200 kJ / 250 g |
| Kuba | 4 400 kJ / 250 g |
| Challah bread | 1 500 kJ / 100 g |
| Vanilla cookies | 2 500 kJ / 100 g |
Vladimír Jurina
Manager of Corporate Relations and Communication
Plzeňský Prazdroj
Cell phone: +420 724 617 886
Email:
www.prazdroj.cz
Lucie Neubergová
Account Manager
Native PR, s. r. o.
Phone: +420 221 592 450
Cell phone: +420 724 617 033
Email:
www.nativepr.cz
Prague