Export of the Pilsner Urquell lager increased by 5 percent last year
11.1.2011
Pilsner Urquell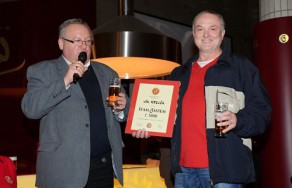 Increased interest in Pilsner Urquell was seen in 2010 in traditional markets, such as the German market (240,000 hl, +4.77 %), the Slovak market (114,500 hl, +18.26 %) and the British market (24,000 hl, +37%). It was also sold in countries which are quite exotic for Czech beer, such as the United Arab Emirates, Syria, South Korea and Vietnam. Last year, Plzeňský Prazdroj successfully launched export of its Pilsner Urquell beer to Argentina.
"The economic situation in a lot of markets to which we export isn't easy. That is why beer experts expect a decline in exports of Czech beer abroad. The negative trend should affect mainly luxurious goods, such as, in this case, premium brands. Therefore increased interest in Pilsner Urquell, which has always spread the fame of Czech beer around the word, is an excellent result. Just like Czechs, foreign consumers visibly appreciate its premium quality and its unique taste," says Karel Kraus, Manager of the Pilsner Urquell brand.
The majority of the lager which leaves Plzeň to be delivered abroad is in bottles or in cans. "A huge success is the increased share of beer on tap which we export from our brewery to more than 30 countries, and which represents 20 % of the total export of Pilsner Urquell. Beer on tap is closely tied to the Czech beer culture and to the art of knowing how to drink beer from Plzeň. We try to share this Czech secret with the help of an international competition, Pilsner Urquell Master Bartender. Thematic restaurants, which present the lager from Plzeň in its natural environment, also play an important role. That is why we are spreading the franchising concept of the Pilsner Urquell Original Restaurant (PUOR) from the Czech Republic to foreign countries. Since last year, people have been going for beer to a PUOR in Germany's Düsseldorf. The virtual goal for export of the Czech beer culture together with export of the beer is export of out tanks from which Pilsner Urquell is currently served in Bratislava and in Vienna," Karel Kraus summarizes the situation.
More information:
Vladimír Jurina, Plzeňský Prazdroj, Ph.no. +420 724 617 219
Notes to editors:
With total sale of 10.5 million hectoliters in the 2009 calendar year (including licensed production abroad) and with export to more than 50 countries, Plzeňský Prazdroj is the biggest producer of beer in the region and the biggest exporter of Czech beer.
Plzeňský Prazdroj, a. s., is a member of the SABMiller PLC Pilsner Urquell group, and is an international flagship of the SABMiller portfolio of brands.
SABMiller PLC is one of biggest beer companies in the world, with activities and distribution in more than 60 countries on six continents. The SABMiller group of brands includes important international brands such as Miller Genuine Draft, Peroni Nastro Azzurro and Pilsner Urquell, and close to 200 successful regional and national brands.
Plzeň