Czech beers, Master Zlaty and Birell, received "beer Oscars" in England
15.2.2011
Uncategorized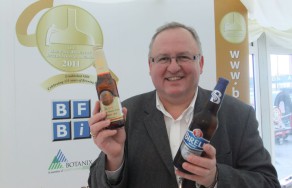 "The golden success of Master and Birell is even bigger because these are the first medals that our beers ever received, and it was in a competition with such a rich tradition. It isn't by accident that it is referred to as the "Oscars for Beer"," Václav Berka, senior business brewer of Plzeňský Prazdroj, commented on the success with satisfaction.
The beer tasting competition is divided into nine categories: lagers, dark beers, porters, stouts, ale–type beers in kegs, non–alcoholic beers and beers with a low amount of alcohol, special and strong beers. The best beers in each category were announced on the evening of Friday, February 11.
The prestigious international competition consisted of interesting judges. The results were in the hands of 30 judges, including five women, from 14 countries from around the world. The team of judges consisted mainly of brewers from breweries. The head of the entire competition was Bill Taylor from Australia, who selects judges to ensure that large–, medium– and small–sized breweries are all represented.
The competition is unique in its tradition and history. The first competition took place in London in 1886. Later it was moved to Burton upon Trent, which is considered to be the birthplace of ale, (just like Plzeň is the birthplace of pilsner beer or lager).
Notes to editors:
With total sale of 10.5 million hectoliters in the 2009 calendar year (including licensed production abroad) and with export to more than 50 countries, Plzeňský Prazdroj, a. s., is the leading producer of beer in the Czech Republic and the biggest exporter of Czech beer.
Plzeňský Prazdroj, a. s., is a member of the SABMiller PLC; Pilsner Urquell is an international flagship of SABMiller brands.
SABMiller PLC is one of the largest beer producing corporations in the world, with beer-related activities or distribution in more than 60 countries around the world, across six continents. The SABMiller group of brands includes important international brands such as Grolsh, Miller Genuine Draft, Peroni Nastro Azzurro and Pilsner Urquell, and close to 200 successful regional and national brands.
Contact:
Jiří Mareček
Manager external communication
Tel.: +420 724 617 219
Plzeň