Pilsen bishop blesses Easter batch of Pilsner Urquell
11.3.2011
Pilsner Urquell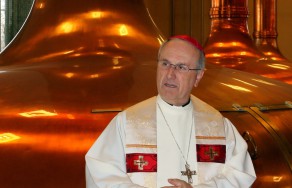 "I believe that today's blessing will bring at least the same success to the Pilsner beer as it received after its historic first blessing on October 5th, 1842, the courageous act of pre–war Pilsen citizens," said Pilsen bishop František Radkovský.
For the Catholic Church, Easter is without a doubt the most important holiday of the year. The Easter batch of Pilsner Urquell carries Christian symbolism, as it ripens for the full 40 days of Lent, beginning on Ash Wednesday. Not only Christians know that important issues and events require proper and long–term preparation.
"We consider this a great honour, that Bishop Radkovský blessed our Easter brew of Pilsner Urquell lager. In April, we plan to send the blessed batch to Rome where, during Easter, it will serve as refreshment for pilgrims at the Giovanni Paolo II pub. We would also like to gift the blessed Pilsner Urquell directly to Vatican dignitaries as a Pilsner Urquell Easter offering," said Václav Berka, senior trade brewer at Pilsner Urquell. Samples of the blessed raw materials from the Easter brew will be kept in the Pilsner Brewery Museum in Pilsen.
For Pilsner Urquell to have sufficient time to ripen by Easter, it has to be brewed five weeks in advance to keep to the traditional formula, and also to the technical time limit that Pilsen brewers have maintained since the time of the first brewer Josef Groll. The first batch of Pilsner lager, which incidentally was also blessed, was brewed by Josef Groll on October 5th, 1842, and the beer was first tapped five and a half weeks later during the St. Martin's Day festivities on November 11th.


For more information contact:
Vladimír Jurina, Plzeňský Prazdroj, phone: +420 724 617 886
Editor notes:
With total sales of over 220 million gallons in 2010 (including licensed production abroad), and with export to over 50 countries around the world, Pilsner Brewery is one of the leading beer manufactures in the region, and the largest exporter of Czech beer.
Pilsner Brewery Corporation is a member of the global SABMiller plc group, and Pilsner Urquell is an international leader for the SABMiller plc brand portfolio.
SABMiller plc is one of the world's largest brewing companies, with beer operations and exports to more than 60 countries across six continents. The group of SABMiller brands includes major international labels like Pilsner Urquell, Miller Genuine Draft, Grolsch, Peroni Nastro Azzurro and many other successful regional and national brands.
Plzeň