The first spring trip? Only on a bicycle
6.4.2011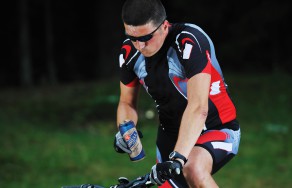 According to a Median company survey, Czechs prefer riding bikes above all other sporting activities. One–quarter of the Czech population are active bike riders, and when we add those who ride their bicycles only once a year, the result gives us a simple answer: every Czech is a bicycle rider. However, cycling is not only about a wheel fork and a well–adjusted gear switch, but also about a well–tuned form. Let's accept it: right living is half the success. It is wise to prepare for the trip calmly about an hour before departure, to eat only light meals, and to drink sufficiently. We should avoid sweet sodas, which create a false feeling of fullness in our stomach. "During the preparation before any sporting activity, the food should contain a major part of quality sugars, vitamins, minerals, and a small part of fats. We should avoid heavy meals like red meats and fried foods. A full stomach may cause indigestion and flatulence," explained Dr. Zdeněk Vilikus from the Institute of Physical Education Medicine of the First Medical Department of the Charles University in Prague.
Rejuvenation of the body after we arrive is as important as the preparation before we take off. According to experts, we should not consume sweet sodas or sweetened juices as a reward for conquered miles. Those supply only non–nutritious calories, and on top of that they contain much food colouring. It is better to enjoy well–chilled nonalcoholic beer like Birell, which stands out among nonalcoholic beers because of its taste, which is very similar to traditional beers. Moreover, the novelty half–dark Birell is very much enjoyed by women who traditionally do not like light beer. And why Birell? Dr. Vilikus has an opinion: "Beside liquids, it replenishes the body with vitamins and minerals, especially with magnesium, which prevents muscle cramps. It also has bitter substances that quench thirst very well. Its unquestionable advantage is a low amount of sugar." Birell is also made the natural way, and frankly, there is nothing better than a misty glass of goodness when we know that it will refresh us and that we will not stuff ourselves with unnecessary calories. Apart from that fact, remember that we should never drink and drive, even if it is only a bike we are riding.
Tips on where to go are a must for every bicycle enthusiast and for the occasional biker as well. You can find nearly 450 of those at www.birell.cz. And there you can also share your own tips with others. Besides quality equipment, motivation and a competitive spirit are also important in sports. All bicycle lovers may measure their abilities as members of the amateur Birell team on the Web at www.birell.cz. And those who would like to know more about how to prepare their bikes for the upcoming season may get inspired by bicycle videos on the Birell website.
So take those bikes out, and let's ride!
Contact info for media:
Vladimír Jurina
Manager of Company Relations and Communication Department
Plzeňský Prazdroj, Inc.
www.prazdroj.cz
Phone: +420 724 617 886
E-mail:
Lucie Neubergová
Account Manager
Native PR, s. r. o.
www.nativepr.cz
Phone: +420 221 592 450
E-mail:
Prague