For the past 168 years, Plzeň beer has been served at the legendary U Pinkasů
7.4.2011
Pilsner Urquell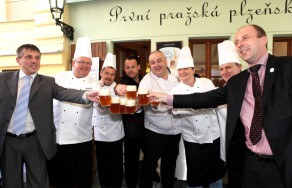 Just one delivery by Martin Salzman in 1843 from the city brewery in Plzeň, today's Plzeňský Prazdroj, was enough to turn a tailor of robes for the clergy, Jakub Pinkasa, into a famous and sought after pub keeper in Prague. Foreman Martin Salzmann also opened a cellar in Plzeň, which even today offers its guests beer from Plzeň and bears the name of its first owner.
Just like Pinkasa did 168 years ago, brewer Václav Berka and people from U Pinkasů exchanged professions. Director of the U Pinkasů restaurant, František Novotný, bartenders Tomáš Babica and Oto Haurythun, chef Robert Koura, and Karel Doubek, the general director of the company Adria-Neptun, headed to Plzeňský Prazdroj, where they brewed a batch of lager for U Pinkasů. On the other side, Václav Berka set out to cook typical Czech goulash. "I have been travelling around the country for years now to ensure the high quality of beer from tap in pubs. Thanks to this, I have tried hundreds of variations of goulash, and whenever I liked it, I asked for the recipe. My brewer's goulash today is mainly, as its name indicates, from a recipe from Prazdroj. It is a goulash which goes perfectly with Pilsner beer in particular, and I hope that the quality and taste of it will reflect my experience with goulash from dozens of chefs in restaurants around the Czech Republic and Moravia," said Václav Berka, senior business brewer at Plzeňský Prazdroj, partially revealing his culinary secret.
"I believe the decision by Jakub Pinkasa to serve Pilsner beer was a good one, and the proof is the happy marriage of U Pinkasů and Plzeňský Prazdroj. I hope that our partnership will bring a lot of fun moments to our guests, who simply love the lager, Pilsner Urquell. For this reason, I wish us all a lot of happy years and great Pilsner beer," said the director of the restaurant, František Novotný, expressing his sentiments in the spirit of the celebration.
Restaurant U Pinkasů has prided itself since its opening on its famous visitors who had and have a weakness for Pilsner Urquell. For example Václav Havel, Václav Klaus, Miloš Forman and Hana Hegerová came to the restaurant repeatedly. Among others, Bára Špotáková, members of the band Tři sestry, and František Kučera, a hockey player from Nagano, come regularly. All of them, as loyal supporters of Pilsner Urquell, have their own half litres for regulars. A glass vitrine with half–litre glasses has an honorary place right next to the tap in the cellar. Currently the collection has more than 30 glasses, the owners being, in addition to famous people, also scientists, artists or important people from Prazdroj. The restaurant is also known from a line by Rudolf Hrušínský in the movie "Dinner for Adele". In the famous scene, Hrušínský praises the quality of the beer from tap and says that at "U Pinkasů they have a bartender who treats beer like his baby."
Restaurant U Pinkasů isn't only a traditional pub in Plzeň; it tries to continuously give its customers the best, from a number of interior renovations to culinary treats. As part of the last renovation in 2002, 5 ten–hectolitre tanks were installed in the cellar. Beer from tanks is becoming more and more popular all around the country. The beer is stored under a stable temperature, 7 degrees Celsius, and isn't pasteurized. One of the culinary treats at U Pinkasů is the meat roll named after Josef Groll, founder of Pilsner beer and the first brewer at the city brewery in Plzeň. The restaurant got the recipe for the original spicy meat mixture thanks to a direct request to Plzeňský Prazdroj. The recipe is from the middle of the 19th century.

More information:
Vladimír Jurina, Plzeňský Prazdroj, Phone: +420 724 617 886
František Novotný
Director of U Pinkasů restaurant, Jungmannovo Square 16, 110 00 Prague1, Czech Republic
Phone no.: +420 221 111 151, GSM: +420 602 348 708, fax: +420 221 111 153
e-mail: www.upinkasu.cz
Notes to editors:

With total sales of 9.9 million hectolitres in the 2010 calendar year (including sales abroad) and with export to more than 50 countries, Plzeňský Prazdroj, a. s., is the leading producer of beer in the region and the biggest exporter of Czech beer.
Plzeňský Prazdroj, a. s., is a member of SABMiller plc. Pilsner Urquell is an international flagship of the SABMiller brands.
SABMiller plc is one of the biggest beer companies in the world, with activities and distribution in more than 60 countries on six continents. SABMiller's group of brands includes important brands such as Miller Genuine Draft, Peroni Nastro Azzurro and many more successful regional brands.
Prague