Czech Confederation of Commerce and Tourism Forged Strategic Partnerships
22.4.2011
Company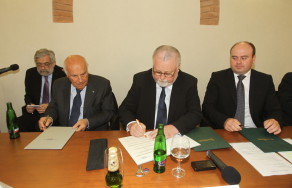 Both companies, Karlovarské minerální vody and Plzeňský Prazdroj, are market leaders in their product groups. Both have, for a long time now, tried to improve the quality of food supplies and the drinking culture in the Czech Republic. That is why they have the same interests as the CCCT. "We have a long–term commitment to solve the question of quality of products and hygiene of sale, both in stores and in gastronomy. We exchange experiences with professional institutions and we also cooperate with the necessary ministries when discussing new norms. Our Confederation is also a member of the counselling and initiation body of the Government of the Czech Republic – the Council for Quality of the Czech Republic – where it also oversees areas of quality in business, tourism, spa management and hotel management. Cooperation with important suppliers also brings new opportunities. That is why we greatly appreciate a long–term partnership with Prazdroj, just like our new partnership with KMV," says Ing. Zdeněk Juračka, President of the Czech Confederation of Commerce and Tourism.
Plzeňský Prazdroj has been brewing the highest–quality beer in its Czech breweries. In order to keep the same level of quality even beyond the gates of the brewery, strict management of the beer, its storage and service are very important. On the other hand, in stores, consumers respond to the overall culture of sale, merchandising and accessibility of individual brands. "Czech beer drinkers are very demanding and they put emphasis on proper handling of beer during transportation and storage, since it can have a noticeable influence on the quality of beer. Our brewers have at their disposal the most modern technology, traditional recipes and the best Czech ingredients. To brew good beer is only the beginning, since a lot can go wrong during transportation to the consumer. That is why we value cooperation with professional guarantors, who continuously strive to achieve the highest standards in all aspects of the sale process. Today's signature, on what is already a second contract, is very important to us," remarked Tiarnán Ó hAimhirín, Director of Business and Distribution of Plzeňský Prazdroj.
The Czech Confederation of Commerce and Tourism is the highest representative of Czech business and tourism, and is respected by the business community, the public, government institutions, and by a professional European organisation. Plzeňský Prazdroj and KMV are respected leaders in the drink industry and cooperation of these subjects can only bring real advantages to Czech customers and consumers.
Notes to editors:
Plzeňský Prazdroj

With total sale of 9.9 million hectolitres in the 2010 calendar year (including sales abroad) and with export to more than 50 countries, Plzeňský Prazdroj, a. s., is the leading producer of beer in the region and the biggest exporter of Czech beer.
Plzeňský Prazdroj, a. s., is a member of the SABMiller PLC company. Pilsner Urquell is an international flagship of SABMiller brands.
SABMiller PLC is one of biggest beer companies in the world, with activities and distribution in more than 60 countries on six continents. The SABMiller group of brands includes important brands such as Miller Genuine Draft, Peroni Nastro Azzurro and many more successful regional brands.
Czech Confederation of Commerce and Tourism

The highest independent special–interest confederation. It represents employers and the business community working in sales and in tourism, social partners and is a member of the Council of the Economic and Social Agreement of the Czech Republic.
It represents federations, associations, big business chains, co–operatives, business alliances, franchising chains, small– and medium–sized business, hospitality, tourism and other related services.
CCCT is a member of EuroCommerce, the European business association, and is a member of UGAL, the Union of groups of independent retailers of Europe.
Contact:
Czech Confederation of Commerce and Tourism
Irena Vlčková
Public Relations Officer
Ph. no: +420 736 624 859
Plzeňský Prazdroj
Jiří Mareček
Public Relations Officer
Ph. no: +420 724 617 219
Prague