Vatican accepts a gift from the Czech Republic on the beatification of John Paul II – a blessed brew of Pilsner Urquell beer
27.4.2011
Pilsner Urquell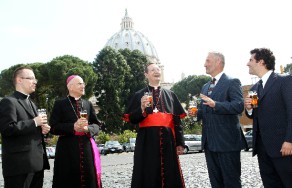 With the Easter celebrations still reverberating, Vatican these days is in full preparations for the beatification of John Paul II. This ceremonial act has brought countless pilgrims to the Vatican who want to celebrate right at the heart of the Catholic Church. For these solemn moments, the world-famous Czech brewery Plzensky Prazdroj, together with the citizens of Pilsen, sent a special Easter batch of their beer to the Vatican. While still in the brewhouse, the beer was blessed by Pilsen's Bishop, Frantisek Radkovsky, on 11th March: "When John Paul II saw me the other day, he promptly remarked that I was the bishop from Pilsen, where we have such good beer," the Bishop recalls with a smile one of his meetings with the former head of the Catholic Church.
The shipment of blessed Pilsner Urquell beer dedicated to the Holy See contained 2,011 bottles symbolizing the year in which the beatification of John Paul II takes place. The Czech Ambassador to the Holy See, Dr. Pavel Vosalik, handed it over to President of the Governorate of the Vatican City State, Cardinal Giovanni Lajolo, today at 10:00 am . The longtime traditional beverage will be served between 30th April and 2nd May at official events of the Catholic Church connected with John Paul II's beatification.
A small part of the brew also went to a clerical restaurant in Rome named after the former pope. The "Giovanni Paolo II" pub in the crypt of St. Ambrose and Charles is a place where especially young believers get together during cultural events and where Pilsner Urquell beer is now available to refresh pilgrims who have come here to celebrate Easter.
The gift, accompanied by a certificate, left the Plzensky Prazdroj brewery gates on 20th April. Pilsen's Bishop, Frantisek Radkovsky and Plzensky Prazdroj's Trade Brewmaster, Vaclav Berka, officially handed the beer over to the Czech Ambassador to the Holy See, Dr. Pavel Vosalik. The blessed brew was made to a traditional recipe and maturated for over five weeks, symbolically almost over the entire period of fasting which lasts forty days before Easter. Examples of the blessed beer's ingredients have been stored in the Brewery Museum, Pilsen, to commemorate this event.
Pilsner Urquell
In October 1842, the city of Pilsen in West Bohemia saw the first brew of beer made in the local brewery, which since then has conquered the world under the name of Pilsner Urquell. The unmistakable taste and characteristic golden color of Pilsner lager gave its name to a whole category of beer – Pilsner (pilsener, pils), which accounts for 70 % of all beers drunk around the world today. In Italy, beer aficionados drink over 20,000 HL of Pilsner lager a year.
Contact:
Jiří Mareček
Manager external communication
Ph. no: +420 724 617 219
Vatican / Prague