Plzeňský Prazdroj will begin exporting the special beer, Master, to Slovakia
6.5.2011
Uncategorized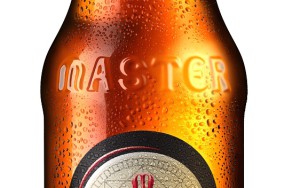 From its launch in the Czech market, in April 2007, Master quickly won over a large number of fans, and after three years, it became number one among special beers on the on-trade channel (in pubs and in restaurants). Master is in the category of super premium brands and its exposure and popularity among Czech consumers is continuously on the rise. Consumers appreciate its quality as much as beer connoisseurs. Master 15° Gold's gold–medal win at the 2011 Brewing Industry International Awards is a testament to this. Based on its success in the Czech Republic, Plzeňský Prazdroj decided to expand Master into the Slovak market with the help of its sister company, the Topvar brewery.
Karel Kraus, Senior Brand Manager, ads: "The first special Master was launched on the Czech market in two keg variations in 2007, as a reaction to the demand from our customers and consumers. Master quickly won its position among special beers. That is why we expanded the supply in 2010 with a bottle variant which included the new Master 15O Gold. The new beer's quality and popularly were confirmed when it placed in a prestigious competition, the Brewing Industry International awards, the "Oscars of beer." After all these successes, there is every reason to presume that it will do equally well in Slovakia."
Special beer Master
Master 15° Gold
Master 15° Zlatý is a special light beer with three kinds of malt, and a honey golden colour. It is a full body beer with a distinctly bitter taste from the phenomenal Žatec hops and a light aftertaste of caramel. It is great as an aperitif since it is one of the bitterest beers on the market which increases your appetite.
Master 13° Amber
Master 13° is a beer with three kinds of malt and an amber colour. The great hops from Žatec add a noticeable beer taste and an aroma of hops to the beer. The well known taste of the best light malt is boosted by caramel and Bavarian malts, and the honey colour comes from a hint of caramel. Thanks to its taste profile, it is a great addition to dishes from modern Czech gastronomy.
Master 18° Dark
Master 18° Dark is a special dark beer rich in flavour and aroma, made from four kinds of malt. Renowned hops from Žatec give this beer a pronounced hops aroma with an incredible bitter taste; a unique combination of four kinds of malts with a rich taste of caramel and rich dark colour. It is best as a digestive or as dessert, which will bring a perfect end to your meal.
Kontakt:
Jiří Mareček
Manager external communication
Tel.: +420 724 617 219
Praha