The third season of the cycling school with Birell is filled with biker celebrities
2.6.2011
About beer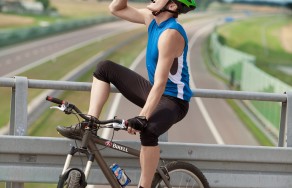 Based on research, every fourth Czech rides a bike. Therefore not only those who want to take part in the amateur competition but also complete beginners will appreciate its simple and semi–amateur tips which discuss, for example, techniques and styles of riding, adjusting to a terrain or selecting the right tyre. But where can one get this information? Good advice can be given by a coach or found as a result of Internet research. Why should you spend hours with a coach or surf the Internet, when starting on June 6th all you need will be available in new episodes from the Birell cycling school at www.birell.cz?
This year, Martin Horák, winner of the Czech marathon and a frequent participant in international cycling competitions, will be the guide on this new series of educational videos about cycling. Other episodes will feature brothers Petr and Tomáš Sulzbacher and Marek Rauchfuss. This year's series will also include Dr. Karel Martínek, who has been providing medical services to our professional cyclists. He will explain information about subjects such as proper nutrition during training. The third series also shows the process of choosing the right bike and accessories, as well as riding techniques for curves, in fast declines or on steep inclines. A true bonus is waiting for all fans of cycling in the episode with the appropriate name "Flying Higher," which ends this year's series. "When I started with professional cycling, I was fortunate to consult with our best experts. That is why I am thrilled that I can pass on my knowledge to you all who enjoy riding, even only as a recreational sport," said Martin Horák.
Even though the main season is in full swing, you can still fully prepare for a nice summer ride – the cycling school offers a ten–week guide to prepare you just in time. "Our fans wrote to us about new episodes, in which they would like to have well-known cyclists explain to them, plainly, in the form of advice, how to bike correctly. In the third season, we got our viewers directly involved and gave them an opportunity to tell us what would interest them. The new cycling school is actually a result of this cooperation," said Martina Kuncová, Brand Manager of the Birell brand.
And what exactly can you look forward to with the new cycling school?
Basic selection of a bike and its components
26 or 29 inches?
Spring loading
Basics of a bike ride
Riding on wet surfaces, in mud, on sand
Balance and falling
Curves
Riding uphill
Riding downhill
Flying higher
Birell wishes you fun while enjoying the series and a summer full of cycling memories!
Contact information for media:

Vladimír Jurina
Manager of Corporate Relations and Communication
Plzeňský Prazdroj, a. s.
www.prazdroj.cz
Phone no.: +420 724 617 886
Email:
Lucie Neubergová
Account Manager
Native PR, s. r. o.
www.nativepr.cz
Phone no.: (+420) 221 592 450
Email:
Prague