Berka won the bet, Maurer will be tapping beer during the Pilsner Fest
9.6.2011
Pilsner Urquell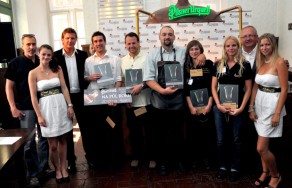 On May 23, in restaurant Lokál at Malá Strana, Pavel Maurer and Václav Berka made a bet about how much beer will be consumed during the Prague Food Festival. Pavel Maurer did not believe that more than 5,350 liters of beer could be drunk, while Václav Berka presumed that the 5,500 liter of beer mark would be beaten at Prague Food Festival. At the end, the final total count was 6,662 liters or 22,206.70 0.3l–glasses, which were used to serve Pilsner Urquell, Master and Birell beer brands.
In case of the lost bet during Pilsner Fest, Václav Berka would have to cook and serve one of the house specialty dishes of the restaurant Lokál, which he presented at this year's Prague Food Fest during his show, where he showed how to pair specialty dishes with top brand premium beers. Now Pavel Maurer is to become a bartender at Pilsner Fest, and he will be serving and presenting Plzeň beer to visitors of the Plzeň festival, naturally, under the keen and scrupulous eye of Mr. Václava Berky.
"I did not expect such a high number. Visitors' participation at these events is much influenced by the weather and this year's forecast was not very good. The number of visitors and the record were a pleasant surprise to me, so I will gladly grasp the tap at Pilsner Fest. My beer drafting skills are not perfect yet, so I am accepting the change more like the opportunity to learn something new," said Mr. Pavel Maurer, organizer of Prague Food Festival.
For more information contact:
Vladimír Jurina, Plzeňský Prazdroj, Tel. +042 724 617 886
Notes for editors

With its total sale of 9.9 million hectoliters during the calendar year of 2010 (including licensed productions abroad) and with its export to more than 50 countries worldwide, Plzeňský Prazdroj Inc. is the prominent beer producer in the region and the biggest exporter of Czech beer.
Plzeňský Prazdroj Inc. is a member of SABMiller plc. Group. Pilsner Urquell is the international flagship brand of the SABMiller brand portfolio.
SABMiller plc. is one of the world's biggest beer brewing companies with beer brewing activities or distribution in more than 60 countries across six continents. SABMiller's brand group portfolio contains such important brands as Pilsner Urquell, Miller Genuine Draft, Grolsch, Peroni Nastro Azzurro, and many other successful regional brands.
Praha