Revision of a unique direct heating system in the Pilsner Urquell digester house
30.6.2011
Pilsner Urquell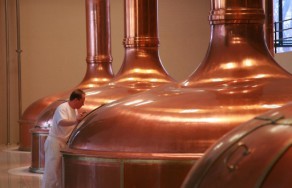 Back in the 19th century, the lager from Plzeň had a world–renowned reputation thanks to its unique taste and golden colour, which until then wasn't common for beer. The unique production process, which brewers from Plzeň have been meticulously following since 1842, leads to an extraordinary result. The first distinction is in the malt from Plzeň, from their own malt house. The malt is prepared from clearly defined types of Czech barley. More unique features can be found at the digester house – a triple layer of mash and direct heating of the mashing pans with a handmade copper chain, which mixes the malt.
"The majority of breweries use electric or steam heating systems. However, when brewing Pilsner Urquell beer, we work with direct fire, which helps brighten the golden colour and gives the beer an aroma of malt grains and a balanced caramelized flavour. This energy demanding heating system has been used for Pilsner Urquell beer since 1842 and we uphold this tradition," states Senior Business Brewer Václav Berka.
Plzeň's Pilsner Urquell digester house has six mashing pans, each with two gas burners, which yearly use more than 1 million m3 of natural gas. Routine servicing was recently done by a certified company, Stromgas, and the complete revision of all 12 burners took professional technicians more than 8 working hours.

Until 1960, Plzeňský Prazdroj used only coal for the heating of mashing pans. Only after did they slowly start to introduce natural gas.
More information:
Vladimír Jurina, Plzeňský Prazdroj, Phone: +420 24 617 886
Notes to editors:

With a total sale of 9.9 million hectolitres in the 2010 calendar year (including licensed production abroad) and with exports to more than 50 countries, Plzeňský Prazdroj is the biggest producer of beer in the region and the biggest exporter of Czech beer.
Plzeňský Prazdroj, a. s., is a member of the SABMiller PLC Pilsner Urquell global group and it is an international flagship of the SABMiller portfolio of brands.
SABMiller PLC is one of the biggest beer companies in the world, with activities and distribution in more than 60 countries on six continents. SABMiller includes important international brands such as Miller Genuine Draft, Peroni Nastro Azzurro, Pilsner Urquell and close to 200 successful regional and national brands.
Plzeň