FOR HOPS monitored this year's unusual behaviour of hops. Growers to get an irrigation app.
16.11.2022
News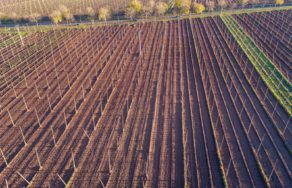 This year's not so successful hop season was influenced by the unusual behaviour of hop plants as a response to extreme weather fluctuations during the summer months. These were characterized by very long waves of heat and drought and short intense rainfall. This follows from the findings of the FOR HOPS project, initiated by Plzeňský Prazdroj (part of Asahi Europe & International) together with Microsoft and other tech companies. The findings from the measurements will now be used to create a special app which will help farmers grow this traditional plant of the brewing industry.
One year ago, six hop yards in the Saaz region of the Czech Republic joined the FOR HOPS project. Experts installed soil probes before last winter, they placed weather stations and time-laps cameras in hop yards.  Then in spring they attached sensors – so-called hops ECG – to grown hop plants. These devices monitored information regarding the condition of plants and measuring weather conditions in hop yards throughout the year until this year's harvest.
The present analysis of results shows that this year's extreme weather fluctuations, severe drought and heat, led to a high level of stress of hop plants, i.e. a low yield.  More than 40 days in July and August exceeded a tropical temperature of 30 degrees and there was more sunshine in the region. On the contrary, precipitation was concentrated into very short periods at the end of April, in July, and later at the end of August. "The upper layers of soil responded to the high temperatures as well, and at a depth of about 30 cm, we recorded continuous growth in temperature practically from spring till the harvest.  The temperature of the soil gradually increased even at a depth of more than one meter," says Ivan Tučník, FOR HOPS Project Leader from Plzeňský Prazdroj.
"During their vegetation period, hop plants experience two stages of development. A vegetative one, when plants grow up to seven metres, produce branches and leaves. After that, plants enter their generative phase, when they start to flower and produce hop cones," explains Pavel Donner from the Hop Research Institute. This year's extremely dry months caused hop plants not to grow to their usual height and to start to flower too early. Therefore, most of the Saaz semi-early red bine hops in the Saaz region did not grow to the necessary height and had only a small number of flowers.
"Very high temperatures disturbed standard physiological processes in the plants, growth stopped and they started to focus more on supplying their roots. Plants behave like any other organisms, they want to protect themselves, which is why they focus on roots rather than flowers in a crisis. And this led to one of the worst harvests in modern history. We talk about a drop in yield of roughly a third compared to the long-term average, and half of what we had in the record year of 2021," adds Pavel Donner.
This unusual vegetation period was recorded by comprehensive measurements as part of the FOR HOPS project. Sensors placed directly on plants measured not only the flow of nutrients, but also managed to reveal the level of stress in plants following from the change in weather conditions. And the changes in the level of stress in plants showed when the production of flowers and cones stopped and hop plants invested all their energy into strengthening their root systems.
The collected data are now being analysed by experts from Microsoft together with agronomists from the Belgian company 2grow and engineers from the Canadian start-up company TensoAI in cooperation with researchers from the Czech Hop Research Institute. The measured data are compared with more information from soil probes, weather stations, satellite images and other data from Microsoft's planetary computer. "We have very valuable and comprehensive data which form a database. At the moment, we are working on a special app which will tell growers when and how much they should irrigate their hop plants, how to take care of them, all the way down to individual hop yards. Thanks to this, they will be able to respond to unfavourable weather changes," adds Alex Mitro from Microsoft Czech Republic and Slovakia.
Over the last two seasons, Saaz hop growers encountered both extremes – last year, it was one of the best harvests, this year, on the contrary, one very much below average. The main factor was the weather which, in both cases, was different from what hop growers had been used to in the long term. "The weather remains the key factor in hop growing. The last two harvests proved that the weather is becoming more and more unpredictable. The new solution from Prazdroj and Microsoft should help us smooth out these fluctuations," confirms Zdeněk Rosa, Chairman of the Board of Directors of the Chmelařství – Žatec cooperative.
"It is almost certain that climate change will bring more significant weather fluctuations. That is why, today more than ever, it is necessary to come up with a solution how to maintain not only the volume but also the quality of grown hops. And that is the main goal of our project. We want to help domestic hop growers by providing them with a smart tool which will help them fight the pitfalls of the weather and tell them when they should irrigate hop plants and how much," says Ivan Tučník.
Further measurements will be taken throughout the following hop season. Soil sensors and weather stations will stay in hop yards during winter and will monitor climate conditions in the soil and in the air. Subsequently, hop growers who have joined the project will receive the first version of the app for testing in the course of the next year.
Notes for editors
Summary of the project FOR HOPS
Czech hops give beer its unique bitter taste and exceptional aroma. Together with water and barley, hops are an essential ingredient which we need to take care of so that millions of people in Czechia and around the world can continue to enjoy Czech beer. Similar to other crops, hops are influenced by climate change and irregular rainfall. That is why the project FOR HOPS was created. The biggest Czech brewery, Plzeňský Prazdroj, and its mother company, Asahi, have joined up with the software giant Microsoft, the innovative technological company Agritecture and other partners to help hop growers irrigate more efficiently, and this way, contribute to preserving the quality and quantity of Czech hops.
For this, they need the most accurate data about the soil and climatic conditions in a specific hop yard. Hop growers also need to understand how and why plants respond to a specific situation. Sensors were installed in the soil, in hop yards and on hop plants, and started gathering data on precipitation, humidity and the content of nutrients in the soil throughout this year´s life cycle of plants. It´s basically a hop ECG which provides unique information about what Czech hops need during the given season of the year and in the given weather. Microsoft and Agritecture are developing software which will be able to process and evaluate this type of data. The mobile application will then show growers when plants need water. This way, hop growers will be able to manage water, of which there is often a short supply, more efficiently and ensure sustainable growth of the precious ingredient in the future.
In its first wave, the project FOR HOPS involves six growers from the Saaz (Žatecko) region. These were chosen in cooperation with the Hop Research Institute (Chmelařský institut) and the Hop Growers Union (Svaz pěstitelů chmele) so as to cover as broad a range of soil and climatic conditions in which hops are grown in the Saaz region as possible. In the future, it is expected that the technological solutions created after the following harvest will be used by other hop growers in Czechia. About 30 experts from three continents are already working on the project, from Singapore to San Francisco, Belgrade to Quebec.
The Czech Republic is one of the world leaders in hop growing with a tradition going back more than a thousand years. Almost 6,000 tonnes of hops are grown on 5,000 hectares every year here. 80 % of this volume is represented by the most famous variety of hops – Saaz semi-early red bine hops (Žatecký poloraný červeňák) – with their light aroma and unmistakable taste, typical, for instance, for pilsner lager. The production of Czech hops has been very volatile in the past ten years, namely due to unstable weather and irregular rainfall. A good example is 2012, when Czech hop yards produced only 4.3 thousand tonnes of hops, while four years later, they produced over 7.7 thousand tonnes. That is a difference of 44 % in yield, while the area of hop yards increased by only 8.5%. The differences have not been so big in recent years, but they are still visible. Year-on-year fluctuations have exceeded one thousand tonnes, that is, about 20 %.
Plzeňský Prazdroj is a domestic leader in the area of sustainable business. Last year in October, it introduced its brand new sustainability strategy. There, it committed to achieving carbon neutrality in production by 2030, to using only renewable energy sources and to the circularity of its packaging. At the same time, the company intends to strengthen its leading position in water management. It also puts emphasis on the impact its business has on employees and all of society. In 2022, the company received two prominent awards in the TOP Responsible Company by Byznys pro společnost chart – first place in the category of responsible reporting and the main prize, called Trendsetter among large companies. With exports to more than 50 countries around the world, Plzeňský Prazdroj is a leader among beer producers in the region and the largest exporter of Czech beer.
Asahi Europe & International (AEI) is part of Asahi Group Holdings, a global beverage and food processing company listed on the Tokyo stock exchange in Japan. It was established thanks to acquisitions which allowed Asahi Group holdings, a traditional Japanese producer of beer, whisky and a broad range of food products, to set up and strengthen its business in Europe and all around the world. The company employs more than 10,000 people, runs 19 plants in 8 European countries, and with the exception of Japan and Oceania, the company is in charge of worldwide exports (90 markets). Its most famous brands include Asahi Super Dry, Pilsner Urquell, Peroni Nastro Azzurro, Grolsch and Kozel. AEI has been striving for a sustainable way of doing business in the long term, and is a member of several international coalitions in this field. The company introduced its latest commitments within the programme Legacy 2030 last year.
Microsoft is a leading producer of technologies for the world in which mobility and cloud come first. Our mission is to enable every person and every organization to do more. Microsoft Corporation was established more than 40 years ago – in April 1975. Its Czech branch was launched in 1992. In June 2016, the Czech branch merged with the Slovak branch and Microsoft Czech Republic and Slovakia came into existence. Our vision is to inspire customers, individuals and organizations in Czechia and Slovakia to be able to change the world thanks to digital technologies. We believe that responsibility starts with creating opportunities for everyone. The goal of Microsoft's corporate social responsibility is to provide access to technologies and knowledge to those people and organizations which need them most, and whose opportunities to use modern technologies are often limited. We help children and young people, especially those who are disadvantaged, non-profit organizations, educational institutions and other partners by sharing our technologies, resources, time and skills with them.
TensoAI is a Canadian tech company based in Quebec that focuses on the development of software, machine learning technology, data analytics and applications, primarily in agriculture. Using artificial intelligence, the company designs models for extrapolation of data from external sources such as weather stations, satellite images or software for precise agriculture. Predictive models based on correlations between these data enable quantitative and qualitative metrics such as yield or its quality to be forecast. It uses Federated Learning technology, which helps improve the accuracy of predictive models without risking the safety of data.
Agritecture was founded by Henry Gordon-Smith in 2014 (originally "Blue Planet Consulting") to help entrepreneurs navigate the crucial planning stage for their urban farming businesses and avoid costly mistakes. Since then, Agritecture has grown into the world´s leading advisory firm on urban and controlled environment agriculture, working with clients of all types – from entrepreneurs to investors and technology providers – in more than 25 countries. Agritecture is comprised of a global team of interdisciplinary consultants that rely on an ever-expanding dataset and a proven methodology, having completed more than 150 projects to date.