We are reducing our consumption of resources and leaving a lower carbon footprint. We are producing less and less waste and using less plastic, we are gradually dropping the production of beer in PET bottles and 100 percent of our shrinks are made from recyclable material. Simply put, our production
is sustainable.
In 2019, we produced 9 million hectolitres of beer at our plants. We are one of the biggest producers of these beverages in the Central European region. We realize we must behave responsibly during production and distribution.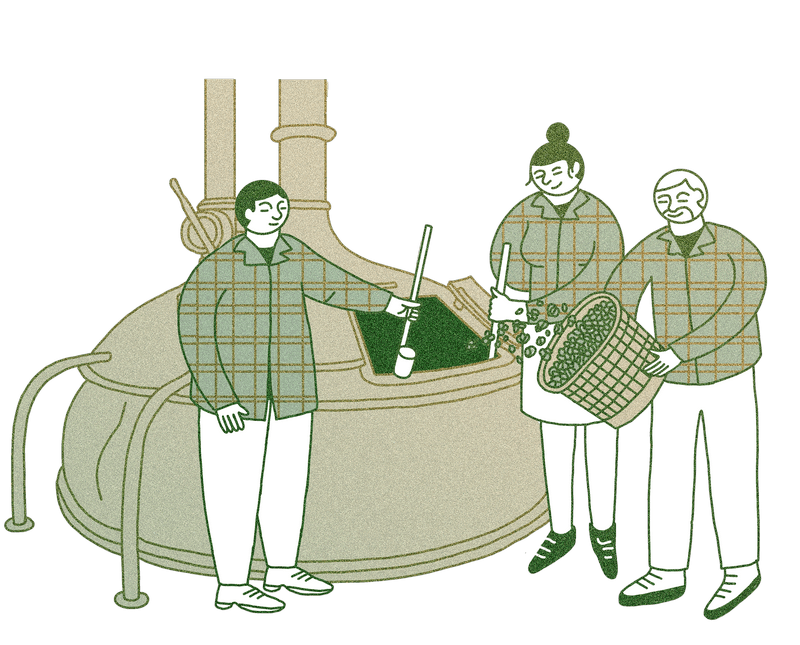 Water
Beer cannot be brewed without water. In 2019, we consumed 3 litres of water to produce one litre of beer. If that might seem too much to some people, let us remind ourselves that it was a third more ten years ago. We need the most water to ensure high hygiene standards, especially to clean and rinse packaging, and for other hygiene- and health-related activities. Plzeňský Prazdroj applies procedures thanks to which many hectolitres of water are saved.
Last year, our total consumption was
3 hl of water per 1 hl of beer
Development of overall water consumption, hl/hl of beer
The most water is traditionally consumed in our Pilsen brewery, where we brew Pilsner Urquell. The increase in the production volume of this beer last year led to a slight increase in water consumption. On the contrary, the Radegast brewery in Nošovice met its plan without any problems and now is one of the leading breweries in the world when it comes to saving water. They not only deal with the water consumption inside the brewery, but they positively influence another part of the chain – pubs. They motivate publicans to save water in the Radegastovna concept bars.
Continuously reducing water consumption is getting more difficult and slower. We can save only a tiny amount of water via optimisation of our production processes. To reach our ambitious goal, we will therefore invest in innovative new technologies. Together with our mother company Asahi Breweries Europe, we have adopted a strategy thanks to which by 2025 the water consumption of all our breweries should be under 3 hectolitres per one hectolitre of beer, and should reach an average water-beer ratio of 2.75.
This will not only mean we will have to save and re-use water, but also implement technologies for greater water recycling, as well as invest in other water treatment projects.
Energy
From our many years of experience we know that the more unique the beer is, the more energy we consume for its production. We have implemented projects to save energy in all our operations, and in the course of the past ten years we have reduced the volume of consumed electricity and heat energy by more than 40 percent.
We recorded a drop in the consumption last year too, when we consumed 80.13 megajoules of energy per one hectolitre of beer. Our plan was even less, but the increase in the production of Pilsner Urquell had to inevitably show up in this indicator. To ensure the same taste and quality of the legendary lager Pilsner Urquell, we observe the same technological procedures for its production as 178 years ago. However, these processes are demanding not only with regard to water consumption, but also energy consumption. Despite that, we have managed to slightly reduce our energy consumption compared to 2018 via optimisation.
Last year, our total consumption was
80,13 MJ of energy per hl of beer

Development of overall energy consumption
Plzeňský Prazdroj, MJ/hl of beer
We want to continue in these savings, but we will focus on a more accurate indicator, which is the carbon footprint.
Total emissions
5.92 kilos of CO2 per hl of beer
Development of total CO2 emissions
Plzeňský Prazdroj, kg CO2/hl of beer
In the past 10 years, we have reduced the volume of CO2 per hectolitre of beer by 40 percent. We want to achieve further significant reductions by savings, by increasing the share of green energy, and more innovations. By 2025, all the energy we consume should come from renewable sources.
Our goal by 2025 is to reduce total CO2 emissions by half compared to 2015.
By 2030, our plan is to be CO2 neutral in all our breweries.
However, our ambitions are even greater: We want to focus not only on the operations and figures within our breweries, but influence our entire supply chain in this area. Via our activities, we are focusing on being CO2 neutral across the entire chain by 2050.
Transportation
e have made our transportation more efficient and we use railways. We transport by train mostly packaging on the route Plzeň – Nošovice, however, some of our beer, too. In 2019, we removed 280 lorries from Czech roads and highways and "saved" 99,500 kilos of CO2.
We have exchanged some of our lorries where we need to use them for transporting beer for new special tandem vehicles, long trucks, which are equipped with state-of-the-art technologies. Thanks to new engines, we have significantly reduced our emissions even in this kind of transportation.
Reduction in emissions thanks to long trucks
of 414,701 kilos of CO2 per year
We have achieved higher efficiency also thanks to the implementation of a new mobile platform which has made the work of drivers faster and simpler, and simultaneously allows us to monitor the state of orders in real time. In the future, the mobile platform will provide us with a series of further opportunities which we are planning to develop.
The average age of our fleet is three years and, of course, all our company and rented vehicles meet the Euro 6 norm. At the same time, we train our drivers on a regular basis to know how to drive economically and leave the smallest footprint possible.
In the second half of 2020, we want to incorporate electric vehicles into our fleet. We cooperate not only with experts in the field of electromobility, but directly with some of the automotive companies. For example, with Mercedes and Volvo, we participate in research and innovations in the field of e-logistics.
Packaging
In 2019, we invested in innovations and focused mostly on the reduction of our plastic footprint. Here we take two approaches at the same time. On the one hand, we reduce the weight and scope of use of plastic packaging and, on the other, we are gradually dropping the production of beer in PET bottles. We are trying to accommodate our consumers and use more cans, in case of which we reduce their weight. On top of that, each of our cans is 50 percent made of recycled aluminium.
All our packaging is recyclable. We have introduced more returnable packaging. Last year, we distributed 72 percent of beer in returnable packaging, whereas it was only 67 percent a year before.
Structure of our packaging (share of beer in hl)
The share of beer distributed in returnable packaging
72 percent of all packaging
Last year, the Gambrinus brewery was the first big beer brand in Czechia to terminate production of beer in PET bottles, by which it will reduce the production of plastic by 334 tonnes per year. As of January 2020, the product is available in returnable glass bottles, beer cans, kegs and beer tanks.
In 2019, we consumed 2,183 tonnes of virgin plastic. Our goal for 2020 is to reduce this by 1,021 tonnes, i.e., by 50 percent.
Alongside our departure from plastic, we are also engaged in the circulation of plastic packaging and shrink film. Together with the supplier of this packaging, we have managed to achieve a significant reduction in the thickness of plastic shrinks for cans, as well as of remaining PET bottles, and on top of that, shrinks are made of 100 percent recycled material.
Our ambition is to have fully circular packaging by 2030.
Re-used production by-products 100 %
By-products make up 93 % of all residue from our production. This primarily regards spent grains and brewer´s yeast, which are used as feedstuff for the cattle. We use spent grains to make delicious crackers, too.
Our re-usable waste includes sewage treatment dregs and filtration kieselguhr. Sewage treatment dregs are used as fertilizer and filtration kieselguhr is ploughed into soil on reclaimed lands to aerate it.
Waste production in 2019
As of 2025, we will not be landfilling any waste.
We are gradually reducing the amount of waste from our production and the amount of landfilled waste. Our goal for 2025 is to reduce the total production of waste by 30 % compared to 2020. We plan to reduce the volume of landfilled waste by 50 % in the following three years, and achieve zero landfilling by 2025.
Water from three sources and maximum recycling
Millions of hectolitres of water flow through breweries and we try to re-use the maximum volume of water possible. If water is primarily used, for instance, for rinsing new cans which are delivered from their producer, and is therefore only slightly polluted, it can be used again as service water. Of course, such water can never come into contact with beer.
In Plzeň, we also have a unique technology which can turn slightly polluted water into drinking water. Every year, 0.03 hectolitres of water per one hectolitre of beer can be re-used as service water.
Plzeňský Prazdroj uses water from three sources. Water of the highest quality which is used directly for brewing comes from our own source, which are our historic wells in the village of Roudná about one and a half kilometres away from the brewery. Service water used for rinsing containers, cleaning areas, etc., is purchased by Plzeňský Prazdroj from the company Plzeňská teplárenská (heating plant). This concerns treated water from the Mže river. We are also connected to the municipal water mains, but we do not use this source very often.
Velké Popovice get water from 11 of their own wells, whereas the furthest source is two kilometres away. With regard to some dry years, we carefully monitor the level of the ground water. Service water comes from the Želivka river.
Our champion in reaching the best numbers when it comes to water consumption, the Radegast brewery in Nošovice, uses water from the Beskidy Mountains. Its results reflect effective measures implemented last year and several years before that. Processes that have undergone optimisation include the bottling plant, sanitation of lager tanks, and underground water consumption in the malthouse.
Radegast saves water in pubs
Radegast is reducing water consumption not only in the Nošovice brewery, but also in pubs. Last year they started to install ecological urinals in the Radegastovna concept bars, which run without using drinking water and flushing. Waterless urinals have been installed in 15 outlets which together can save approximately three million litres of drinking water which would have been flushed per year. This is the volume of drinking water which is consumed by 92 citizens of the Czech Republic in their households per year. The project of ecological toilets in Radegastovna pubs is executed by the Radegast brewery in cooperation with the company EcoStep.
The efforts of the Radegast brewery focused on the reduction and economic use of water is long-term. In its fight against drought and care for water sources, the brewery is trying to set an example for others, and is one of the best in the world when it comes to water consumption for producing beer. They have also created a system of ponds in Nošovice which naturally treat rainwater flowing from the brewery, and have implemented more modern technologies which reduce the impact of the production on the environment.
Water consumption goals:
| Brewery | 2019 | 2020 | 2021 | 2022 | 2025 |
| --- | --- | --- | --- | --- | --- |
| Nošovice | 2,53 | 2,5 | 2,5 | 2,45 | 2,45 |
| Plzeň | 3,26 | 3,25 | 3,2 | 3,1 | 2,95 |
| Velké Popovice | 2,85 | 2,98 | 2,93 | 2,9 | 2,8 |
hl of water per hl of beer
Note: In the case of the Velké Popovice brewery, we estimate an increase in water consumption, mostly due to the increase in the production of premium beers, which require more water.
Carbon footprint reduction goals:
| Pivovar | 2019 | 2020 | 2021 | 2022 | 2025 |
| --- | --- | --- | --- | --- | --- |
| Nošovice | 4,62 | 4,9 | 4,7 | 4,5 | 2,7 |
| Plzeň | 6,97 | 6,8 | 6,4 | 6,2 | 4,5 |
| Velké Popovice | 4,92 | 4,6 | 4,2 | 4,2 | 2,7 |
kg of CO2 per hl of beer
Note: In the Nošovice brewery, the increase is related to the new canning line and the central warehouse.
We leave a smaller carbon footprint
Plzeňský Prazdroj carefully monitors the relation between the production and emissions created by energy consumption. The company has been successful at improving its carbon footprint for many years. How can this be achieved when a significant reduction in energy consumption is not possible if we do not want to compromise the quality of our beer?
We are gradually replacing the fuel used in our plants with more ecologically friendly ones.
We are changing the mix of electricity which we purchase from suppliers. We cooperate on this with the companies ČEZ Esco and E.ON. We prefer green sources. For example, our headquarters in Myslbek in Prague will be offtaking only green electricity in 2020. We are looking for partners who would like to invest in new renewable sources and who we would like to conclude contracts for offtaking green electricity with. By 2025, the electricity we consume will be 100 percent from renewable sources.
We have undertaken that in 2025, our CO2 emissions will drop by a half compared to 2015. By 2030, we want to use all energy, i.e., also heating energy, from renewable sources and be carbon-neutral.
We have started to use new long trucks
We have renewed the fleet of lorries which we use for transporting beer. We have started to use twenty new special tandem lorries, so-called long trucks made by Mercedes-Benz, which are equipped with state-of-the-art technologies.
The long trucks have greater storage space and we can load more beer onto them than on traditional lorries, which improves the economy of their operation, and at the same time, has a positive impact on the environment. Thanks to their new engines, they produce less emissions, too. The total annual savings of the 20 new lorries is 414,701 kilos of CO2. This equals 377 transatlantic flights from Prague to New York.
Each long truck is more than 20 metres long and can carry 38 distribution pallets (compared to 33 pallets on traditional lorries), which means more than 30 thousand bottles of beer.
Gambrinus has stopped using PET bottles
The Gambrinus brewery was the first big beer brand in Czechia to stop production and sales of beer in PET bottles, at the end of 2019. Thanks to this, we will reduce the production of plastics by 334 tonnes per year, which roughly equals 14 fully loaded lorries. This way, we satisfy the wishes of our consumers for whom not only the quality of the product is important, but also what we make its packaging from, and how nature-friendly we are. On top of the termination of sales in PET bottles, Gambrinus and others have started using 100 % recycled plastic film in which a greater numbers of cans are packed.
In 2020, we plan to terminate sales of Radegast in PET bottles and Velkopopovický Kozel will follow as well. By 2023, we will drop sales of beer in PET altogether. Our shrinks are made of 100 % recyclable material already now.
We are introducing a circular model where possible
Packaging, its ecological production and possibility to re-use it represent a challenge for us. We have achieved huge progress in the case of shrinks. We have launched cooperation with a French producer who takes away our waste in the form of scraps and the film in which packaging is delivered to us. Today, the producer can re-granulate 22 percent of this raw material, which is re-used for producing new shrinks. We are able to cover the whole production of Birell with these recycled products.
For this purpose, we have installed a special machine – a press which can make film into nice looking packaging before their departure to France. These packages make up 120 tonnes per year.
In the case of shrink film, we have implemented 100 % recycled film which replaces 500 tonnes of virgin material per year.
The stretch films which we use for distributing pallets to our customers also represent a huge volume of plastic packaging. Today, it is 285 tonnes a year. We are testing some options to reduce their weight and overall consumption. In 2020, we are testing a change from 15-micrometre film to 11-micrometre film in Czech breweries, and a change from 17-micrometre film to 14-micrometre film in our Slovak brewery. This represents basically a revolution in the distribution of bottles, cans and KEGs and will bring huge savings: 69 tonnes of film.
In cooperation with the supplier, we have also managed to check the opportunity to use recycled material for the remaining PET bottles, which is not, however, that easy if we want to maintain the high quality of their contents. The research in this area continues.
Labels represent a separate category, where we look at the possibilities of their recycling together with their suppliers.
As a responsible company, we are also interested in what happens to the cups we provide for various festivals and similar events connected with our name. We have come to the conclusion that the best way to reduce the volume of waste after such events is to use returnable cups. As of 1 January 2020, you will not find any disposable cups during events at our Pilsen brewery, all of them are solely returnable. Similarly, only returnable cups will be available during our events such as Kozel Day, Gambrinus Day or Radegast Day.
Only crackers made of spent grains with your beer
At the beginning, this was only an experiment with a question mark. We let the Zemanka organic bakery make crackers from spent grains, a residue from the malt used for producing beer, namely savoury and sweet alternatives, and tested whether we could change this experiment into a standard production. And we did it.
Spent grains from our breweries are ecologically treated as standard and delivered to farmers who use them as feedstuff for their cattle. Compared to conventional flour, spent grains have more proteins and fibre, and fewer carbohydrates. Several start-up companies in the USA already make use of these properties of spent grains, and make special flour or healthy bars from them. So we thought: why not here?
In the Zemanka organic bakery, they found a suitable procedure and created an original recipe. The entire process took approximately two months and at its end, there were tasty crackers. In the summer of 2019, the new products passed all the demanding audits and food and hygiene inspections, and crackers made from spent grains could head out for distribution. We have proven that even waste can be made into something with added value.
In mid-2020, the brewer´s crackers will be made available in salted, cheese and garlic flavours in selected chain stores and shops.