Small businesses are inspired by Plzensky Prazdroj in sustainable business conduct
21.10.2016
Company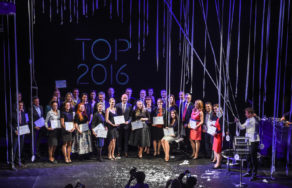 At a gala event held on Wednesday, 19 October 2016, Business for Society, a leading independent platform for responsible business conduct in the Czech Republic, honoured Plzensky Prazdroj's activities with the Gold Certificate in the TOP Responsible Large Enterprise category and the TOP Responsible Reporting award.   Newly this year, the Plzensky Prazdroj, a.s. company is a partner to the TOP Responsible Small Enterprise category, which aims to award small and medium-sized businesses which systematically, comprehensively and strategically develop their businesses towards a responsible approach and sustainability.   
"Companies that wish to conduct their business successfully must also care for the communities in which they operate. Over the past few years, we have seen companies increasingly shift from one-off charity events to having a long-lasting positive impact on the economy, environment and social life in the regions in which they operate. Even small and medium-sized businesses have started to take this approach; it helps them enhance their reputation and boost employee satisfaction and loyalty, as well as the sustainability of their business conduct," Pavlína Kalousová, Head of the Business for Society platform, describes the existing trends in corporate social responsibility (CSR). And it is small businesses that Plzeňský Prazdroj has decided to support in these types of activities.
"Along with our own long-term activities in sustainable business conduct, we strive to positively influence our suppliers and inspire small enterprises. This is also why Plzensky Prazdroj has become a partner to the TOP Responsible Small Company category," explains Drahomíra Mandíková, Plzensky Prazdroj's Corporate Affairs Director. This category aims to recognise businesses that take a responsible approach to employees, business partners and communities, while having a clear vision of where to move forward in the area of sustainable business conduct. The expert jury has decided that this year, it is the Zemedelske obchodni družstvo Brniste (Brniste Agricultural and Trading Cooperative) that best meets the above criteria. This cooperative engages in the farming and processing of poultry and cattle; it is also a founder of the Nadacní fond Podralsko (Podralsko Endowment Fund), which aims to support the development of the Podralsko region.
"For a company which conducts business in agriculture, it is only natural to contribute to the local community's development. This has been and will always be part of our long-term strategy. We enjoy a number of achievements. We were the very first company in the region to introduce a private scholarship for secondary schools; we carry out educational programs for schools, not to mention organising a number of events for people in the community. We also provide both support and facilities to local associations. People in the region are becoming more and more aware of Brniste and its activities," Petr Kubicek, Chairman of the Board of Directors, describes the wealth of activities initiated by the cooperative.
Another example of good practice in terms of cooperation between large and small-sized businesses in the field of sustainability is a joint project entitled Prazdroj & COOP jointly towards a better life in municipalities. The partnership of the leader of the Czech beer market and the COOP retail chain has a long-standing tradition. They share common values such as respect for tradition and a commitment to look after the development of the communities in which they operate; this is why they have jointly focused on renovating locally significant sights and supporting voluntary fire brigades. 1% of the sales from Plzensky Prazdroj's products purchased in the COOP retail chain went to support these activities, with the total contribution amounting to almost CZK 400,000.
Plzensky Prazdroj's spokesperson, Jitka Nemeckova, is available to media on the following contacts:
Mobile phone: +420 731 193 191
E-mail:  
Notes for editors
With total sales of almost 10 million hectolitres in 2015 (including licensed production abroad) and exports to more than 50 countries around the world, Plzensky Prazdroj, a.s. is a major beer producer in the region and the largest exporter of Czech beer.
For its long-term contribution to promoting corporate social responsibility in the Czech Republic, Plzeňský Prazdroj, a.s. was awarded the Gold Certificate in the 2015 TOP Responsible Company competition, which is organized by the Byznys pro spolecnost (Business for Society) platform.
Plzensky Prazdroj, a.s. carefully selects its business partners; the company only works jointly with those companies which cherish the principles stipulated in Plzensky Prazdroj's Code of Business Ethics. The company also engages its business partners (retailers and pub owners) in its Respect 18 project, which strives to prevent alcohol being served to minors. 
(Plzeň)