The Czech winner of the Pilsner Urquell Master Bartender competition is bartender Jaroslav Učík from Vrchlabí
5.8.2011
Pilsner Urquell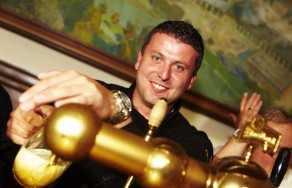 "This is my fifth time at the Pilsner Urquell Master Bartender competition; I only missed the first one. I want to improve for the world finals, I want to present my craftsmanship, I want to represent myself, Pilsner lager and my restaurant in front of a very demanding panel of judges. I don't know when I will drink the beer that I will brew with Václav Berka, but I am sure that regular customers and everybody who contributed to my win will definitely be present when it's served," said the new Czech Pilsner Urquell Master Bartender Jaroslav Učík, owner and manager of this family run restaurant and leader of a group of volunteer fire fighters in Vrchlabí 1.
On August 4th, a group of 20 best bartenders (17 men and 3 women), who won four regional rounds, met at the brewery in Plzeň. They had to perfectly execute the proper serving of Pilsner Urquell lager, but they also had to persuade the jury that they could master the overall care of beer in a restaurant, that they know its history, the brewing process and its unique characteristics, and all this had to be done in such a way as to provide guests with an exceptional experience. A panel of professionals from Plzeňský Prazdroj, headed by Senior Business Brewer Václav Berka, judged their skills. The whole competition took place under the watchful eye of lasts year's winner of the international final, current World Master Bartender Lukáš Svoboda.
In addition to a certificate for participation in the national finals, all finalists took home Pilsner Urquell beer and other gifts. Those who place second and third will receive six months' worth of free beer and a trip to Vilshofen, birth place of the first Pilsner Urquell brewer, Josef Groll, which includes a visit to the famous beer festival Oktoberfest in Munich. The national winner also received free beer for one year (730 Pilsner Urquell beers), an opportunity to brew a batch of beer for his restaurant with brewer Václav Berka, and of course the prestigious title for himself and for his business where he works.
"The sixth year of this competition once again showed the increasing level of knowledge and experience of those bartenders who approach their craft with enthusiasm. And the Czech winner, Jaroslav Učík, will be an excellent representative for the Czech Republic in the world finals," said Senior Business Brewer from Plzeňský Prazdroj, Václav Berka, summarising the results of the national finals. Three of this year's finalists will therefore share their craft with visitors to this year's Pilsner Fest, along with Lukáš Svoboda, Jan Korejse and Václav Vany, former Czech Master Bartenders.
The world finals will take place on October 4–5, 2011, in Prague and in Plzeň. The World Master will receive a trophy and a title of World Master, along with a prize of 10,000 Euro.
The Pilsner Urquell Master Bartender competition is geared for all ambitious bartenders, who share a love for their trade and for Pilsner Urquell lager. In order for a bartender to become a world champion, he/she needs to do more than just pour a glass of perfect beer. A world champion bartender must also be charismatic, able to make a drink seem exceptional and present it in an interesting way, possess knowledge about the history and production of beer and know how to care for it. This year, a total of 320 bartenders from all around the Czech Republic entered the competition.
In yesterday's super finals, twenty finalists were narrowed down to the following bartenders:
– Ronald Steiger, Bed and Breakfast V Lukách, Dlouhá Ves u Sušice
– Václav Schejbal, Restaurant Uctívaný Velbloud, Plzeň
– Jaroslav Učík, Restaurant U Učíků, Vrchlabí
– Magdalena Zvěřinová, Restaurant U Kovářů, Benešov
– Jakub Šrubař, Dům vína U Datla, Frýdek–Místek
Three best bartenders from the 6th annual competition of Pilsner Urquell Master Bartender
1. Jaroslav Učík, Restaurant U Učíků, Vrchlabí
2. Jakub Šrubař, Dům vína U Datla, Frýdek–Místek
3. Ronald Steiger, Bed and Breakfast V Lukách, Dlouhá Ves u Sušice
More information:
Vladimír Jurina, Plzeňský Prazdroj, Phone: +420 724 617 886
Notes to editors:
With total sales of 9.9 million hectoliters in the 2010 calendar year (including sales abroad) and with exports to more than 50 countries, Plzeňský Prazdroj, a. s., is the leading producer of beer in the region and the biggest exporter of Czech beer.
Plzeňský Prazdroj, a. s., is a member of the SABMiller PLC Company. Pilsner Urquell is an international flagship of SABMiller brands.
Plzeň