Of all sports, Czechs like riding their bikes most, and paragliding is their favourite nontraditional sport activity
20.9.2011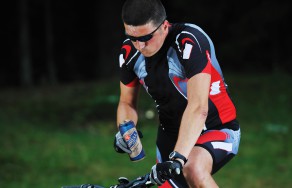 Czechs spend their downtime actively. Besides cycling, 15 percent are regularly involved in fitness, aerobics and swimming. And what nontraditional sport would they like to try? A quarter of them are intrigued by paragliding, many are interested in rafting, and a growing number is often peeking at Zumba.
Their biggest motivation for actively spending their free time is staying fit or improving their fitness. Half of the respondents are looking for relaxation and stress release. More than 50 percent of survey participants like sports for giving them an opportunity to stay active and enjoy fresh air.
Hand in hand with the good feeling of time well spent while exercising goes an opportunity to meet with friends. That itself is a strong motivation to get involved in a sport activity for one- fifth of respondents. Three–quarters of them enjoy nice refreshments in a local pub after playing sports. While there, most of them order beer, and a half of those usually prefer nonalcoholic beer. One–third of sportsmen will find refreshment in pure water. According to Dr. Zdeňek Vilikus from the Institute of Sports Medicine at the Charles University Medical School and VFN, it is necessary to replenish the body with fluids after sports. However, we should not burden our organism with too much alcohol. "Pure water is a suitable beverage after a recreational form of sport activity. Diluted mineral waters are better for sportsmen involved in professional or competitive sports to ensure the replenishment of lost minerals. However, nonalcoholic beer might be a suitable option too. For example, Birell, which has a relatively high content of vitamin B, most of all contains many minerals that must be regained by the exhausted body. Besides liquid, Birell supplies the body with magnesium, which prevents the occurrence of muscle cramping. It also contains bitters that are good for quenching the thirst. We should avoid alcohol after sports. It slows down the regeneration of the organism, so one may feel tired longer," added Dr. Vilikus.
Police commissar Pavel Jirsák from Hradce Králové also highlights the risks connected with the consumption of alcoholic beverages: "Cyclists especially should be aware of the risks connected with the consumption of alcoholic beverages. A bike rider is a full participant of road traffic, and the same traffic rules apply to him as to all other traffic participants, such as car or truck drivers. Therefore we do focus on them a lot, and they are the subjects of many alcohol–in–blood checks, and not only in the summer."
So it is better for you to avoid alcohol during sports and on the bike especially. There are many refreshment places alongside the Czech bike paths where they will gladly serve you nonalcoholic beer. For actual tips, you can go online and look at the website www.birell.cz.
The survey on the website www.turistika.cz took place from June 21, 2011 to July 21, 2011. 112 visitors participated.
Contact information for media:
Vladimír Jurina
PR Manager
Plzeňský Prazdroj, a. s.
E-mail: Phone: +420 724 617 886
www.prazdroj.cz
Lucie Neubergová
Account Manager
Native PR, s. r. o.
E-mail: Phone: +420 221 592 450
www.nativepr.cz
Praha