Prazdroj and Gambrinus attracted more than a quarter of million of visitors
11.1.2012
Company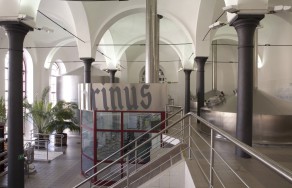 "Long–time increase in popularity of our breweries, Beer Brewing Museum, and Historic Underground is the result of a systematic cooperation with business entities involved in tourism. We are cooperating with CzechTourism Agency, with other travel offices, and, of course, with The Town of Plzeň, and Plzeň Region Administration. The successful new approach of the last year was the cooperation with Czech National Heritage Institute," said Tomáš Raboch of the Visitors Center of Plzeňský Prazdroj.
Organized visitors groups (61%) versus individual visitors (39) make a long–time stable ratio. August brought the highest number of visitors due to vacation season, and a rich program of summer events including Pilsner Fest, which also offers enriched tours of the breweries, Beer Brewing Museum, and Plzeň Historic Underground.
"Visitors from China, Thai–wan, Vietnam, and even Thailand represent a new wave of visitors seeking experience of Plzeňský Prazdroj visitors tours. They are coming in ever increasing numbers and together with Czechs, Germans, French, and Russians they are starting to make a new base clientele. People from all around the world are coming to visit. Such distant countries like African Zimbabwe, Kongo, and Madagascar are not exceptions anymore," added Tomáš Raboch.
New Gambrinus tour was a big success
Gambrinus visitors tour that opened in the fall of 2010 is gaining popularity among citizens and visitors of Plzeň. It shows in the first–place award in the Where to From Boredom travel portal contest for the most attractive Czech tourist attraction in Plzeň region. The victory in the contest was based on visitors votes only. The brewery attracts celebrities as well. Kabát rock group members, Chinaski pop band, and players of Gambrinus League Master FC Viktoria Plzeň team they all came to visit the brewery.
Many distinguished foreign guests, especially politicians such as Hungary's Minister of Education, and number of honorary consuls and ambassadors. American WWII veterans visited the brewery during the May celebration of the iberation of Plzeň. A Vietnam delegation came to see the brewery as well as members of Europe tour Ferrari Club from Arabian peninsula.
Higher number of visitors reflected positively in merchandise sales side of the business offered to visitors by Plzeňský Prazdroj. There was an increase interest in gifts and souvenirs, and an e–shop experienced a big boom.
Convention center Secese celebrated a successful year as well. More companies and individuals than ever before made their reservation to organize their meetings, celebrations, and other events there. And so several hundreds of events from large conventions to small private celebrations took place directly in the brewery in 2011.
This year, the brewery offers new things such as horse drawn carriage tours, and anniversary tours called After the History of Pilsner Urquell. Entrance prices for 2012 will remain same this year, as they did the last year.
Notes for editors:
With its total sale of nearly 10 millions of hectoliters during the calendar year of 2011 (including licensed productions abroad) and with its export to more than 50 countries worldwide, Plzeňský Prazdroj Inc. is the preeminent beer producer in the region and the biggest exporter of the Czech beer.
Plzeňský Prazdroj Inc. is the member of SABMiller plc. group. Pilsner Urquell is the international flagship brand of the SABMiller brand portfolio.
SABMiller plc. is one of the world's biggest beer brewing companies with beer brewing activities or distribution in more than 60 countries across six continents. SABMiller portfolio includes important international Brands such as Grolsch, Miller Genuine Draft, Peroni Nastro Azzurro, and Pilsner Urquell, as well as almost 200 successful regional and national brands.
Contact:
Jiří Mareček
Manager external communication
Phone: +420 724 617 219
Plzeň